Valentine's Day is the holiday of romance. During this day lovers celebrate their affection with gifts and  greetings but  it also gets hard to assure dinner reservations at restaurants. So, if you're planning to celebrate this Valentine's Day at home, why not try something new this year? For example, Caviar.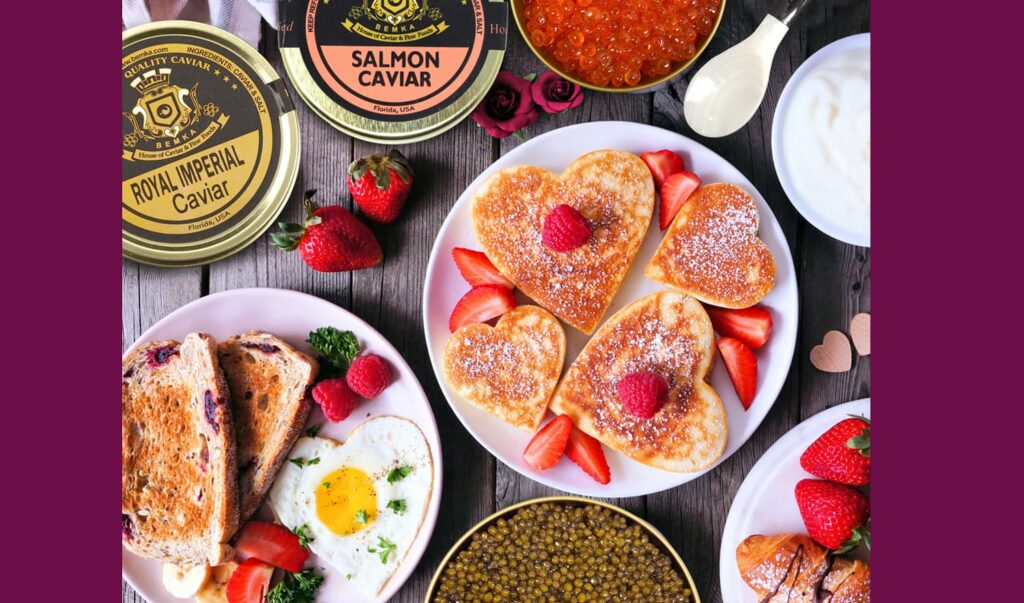 Caviar is a synonym of elegance and tradition. Some people don't even think about 'cause is "too expensive", but this is a myth. There are many types of Caviar of all flavors, textures and prices. So, for this upcoming holiday, surprise your love mate with this exquisite ingredient at your dinner table. 
So, how to make the perfect dinner for Valentine's Day? House of Caviar sharing with you gift ideas and recipes you can easily  try at home. But first things first, a home-cooked dinner requires more than just cooking. You'd want to have everything you need: a setting, dishes, a drink to pair your dinner, maybe music. Here's a list of the basics you'll need for a perfect Valentine's Day dinner date: 
Serve an appetizer: while you're finishing the last details of dinner, an appetizer is the ideal entry to set the mood. Try serving an easy and quick appetizer that won't make your mate and you get full before the main dish. 
Cook a simple dish: when cooking at home you don't want to make it more difficult for yourself. Think about 

a dish that shows off your cooking skills and avoid cooking difficult to eat or messy foods.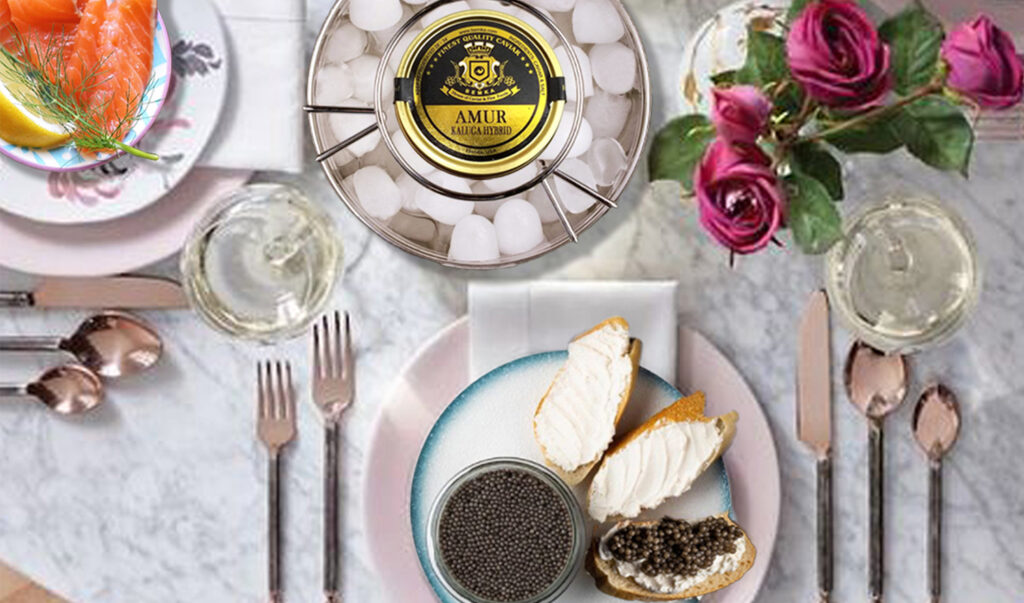 Drinks!: this is mandatory for your dinner. This can be an alcoholic or non-alcoholic beverage.  To pair your dinner with Caviar, go for the classics: champagne or vodka. 
Use your best dinnerware: a classy dinner is nothing without the right dinnerware. Take out and clean up the best dinnerware you have at home. For

Caviar

, it is recommended

to use a special

Caviar

spoon, made of bone, plastic, or mother of pearl.
Now, it's time to get ready and start cooking. House of Caviar is sharing with you a list of gift ideas for this Valentine's Day. These gifts include all the products you'll need to prepare a perfect and original dinner date with Caviar.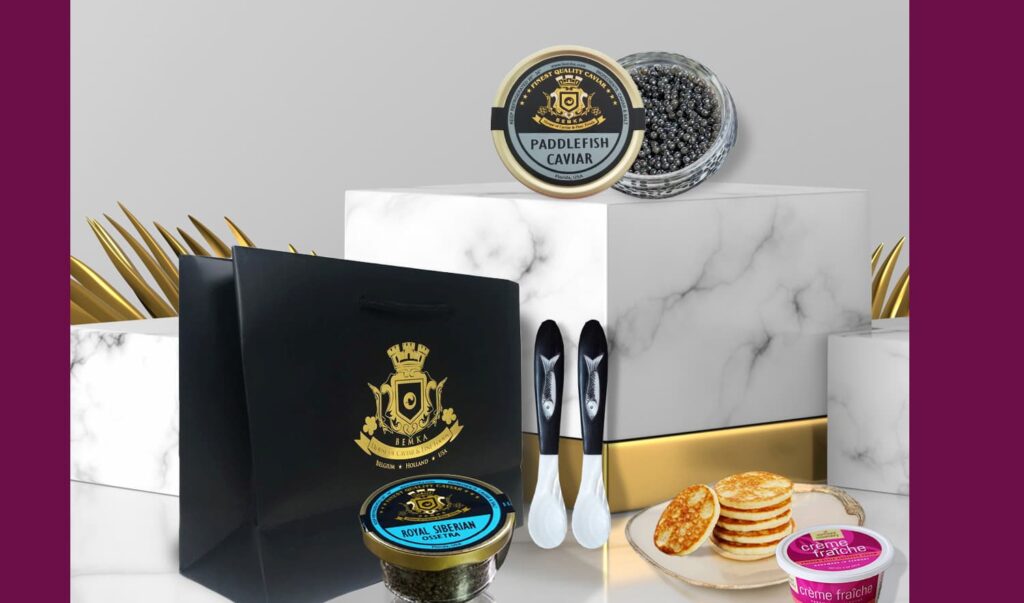 This is the perfect basket for a full dinner for two. Includes blinis and Crème Fraiche for appetizers, two types of Caviar and the spoons to serve it! 
– 2 Mother of Pearl Spoons
– 1 Mother of Pearl Server
– 1 Crème Fraiche
– 16 Blinis
– 1 Paddlefish Caviar (1oz)
– 1 Royal Siberian Caviar (1oz)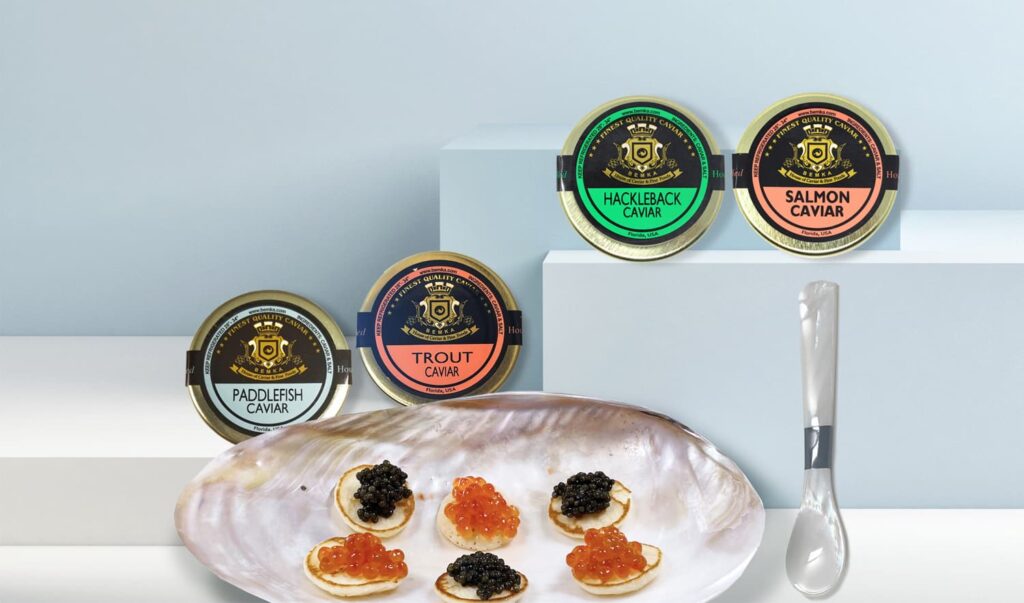 If you're a beginner in the world of Caviar, this is the ideal basket to start with. You'll have everything you need at a modest price. 
1 – Hackleback Caviar 2 oz
1 – Paddlefish Caviar 2 oz
1 – Salmon Caviar 2 oz
1 – Blini Traditional Size 16 pc
1 – Mother of Pearl Spoon
1 – Mother of Pearl Dish
Once you have all the ingredients for your dinner date, choose a recipe that matches your needs and that's it. If you haven't decided yet and you're still looking for inspiration, check cooking websites like NYT Cooking, Food & Wine, Food 52 and Yummly, there's a lot of ideas to choose from. 
With Caviar, there's no excuse to be surprised this Valentine's Day. Remember to always get your food at reputable stores specialized in Caviar and fine foods such as House of Caviar. Visit our online store and find more gifts, seafood, meats and of course, lots of Caviar. Come and discover all what's waiting for you! 
Enjoy our promo for Valentine's Day.