Wait, are you thinking about chocolate? No! These Truffles we're talking about are subterranean fungi grown in calcareous soils near the roots of broadleaved trees such as oak or hazelnut. They're mostly produced in concentrated areas around the world, including France, Italy, New Zealand, China, North Africa, the Middle East, and the Pacific Northwest.Because of its spore-bearing body, the truffle is basically considered a form of mushroom. However, there are some remarkable differences between these two. Truffles grow underground while mushrooms typically grow above ground. Plus, edible Truffles don't taste much like any traditional mushroom, even if both share a certain tier of earthy flavour.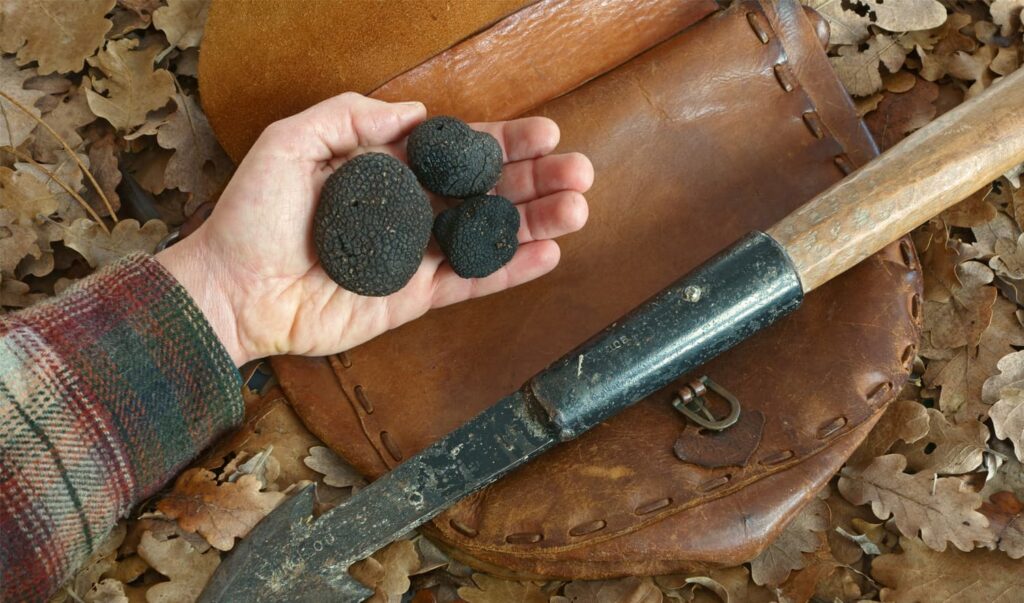 And do we recognize Truffles? Black Truffles tend to have rough and somewhat granular exteriors, resembling solid clumps of dirt or even lumpy poop. Their insides are far more fetching by comparison, looking almost like wagyu beef. White Truffles, meanwhile, tend to resemble a rough-skinned potato on the outside. On the inside, they exhibit the kind of marbled mushroom quality that you find in Black Truffles, albeit in a slightly different form.
The flavour of Truffles  is often described as being nutty, earthy, woody, mushroomy, and even a little chocolatey. White Truffles are somewhat more subtle by comparison, though still completely discernible when added to any dish. They give off a musky aroma and deliver a taste that's typically described as being lightly garlicky. But its taste isn't the only thing why it has become a popular product. Truffles are commonly known for being expensive. Furthermore, you may find Truffles at any list of expensive delicacies along with Caviar. 
The distinct flavor and strong aroma of Truffles can help to transform dishes, which is why top chefs love to use them. However, they are not easy to come by, and this is why they are so expensive. Plus, Truffles are costly because they're hard to find, frustrating to grow, and impossible to store for any length of time.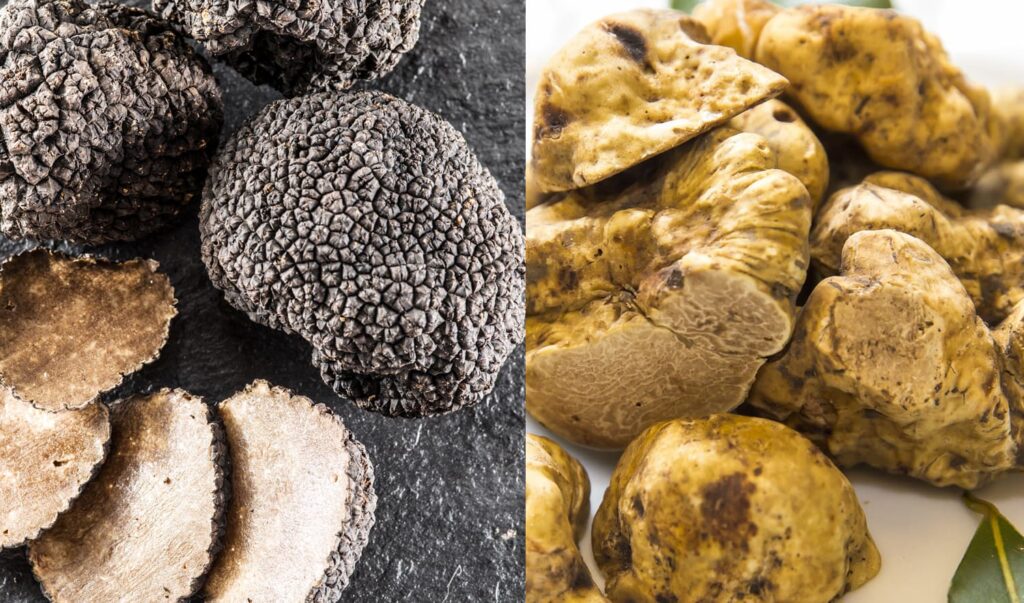 Now, the question is how to serve Truffles? House of Caviar presents you two recipe ideas to try with this star ingredient. When you start using Truffles you'll see there are many ways of using it, whereas fresh, honey, sauces and creams or oils. For the following recipes we're using Truffle Oil, you can find this product visiting our online store and clicking in the Truffle Oil section. So, you have it all now! These are the recipes: 
Prosciutto appetizer with Truffled Burrata and Caviar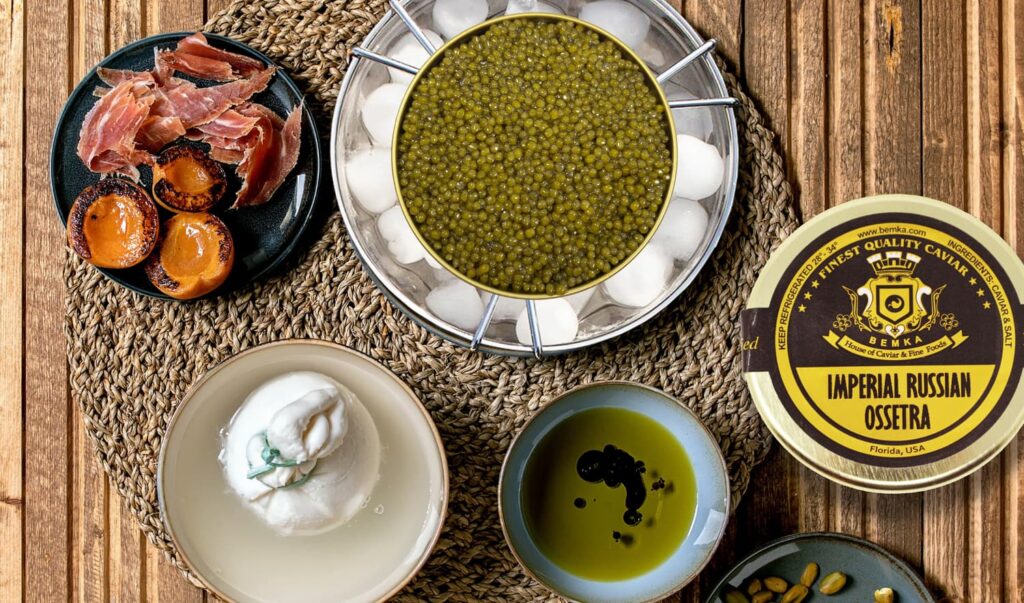 Ingredients
8 slices Prosciutto di Parma
2 rounds  fresh burrata cheese
2 ounces Osetra Caviar
1 small piece fresh truffle
1 teaspoon freshly cut chives
Place sliced prosciutto on plates. Quarter the burrata into wedges, place a piece on each prosciutto slice. Top with Caviar, oil or shaved Truffle, and chives. Fold into a roll and enjoy! 
Smashed Potato salad with Truffle oil and Caviar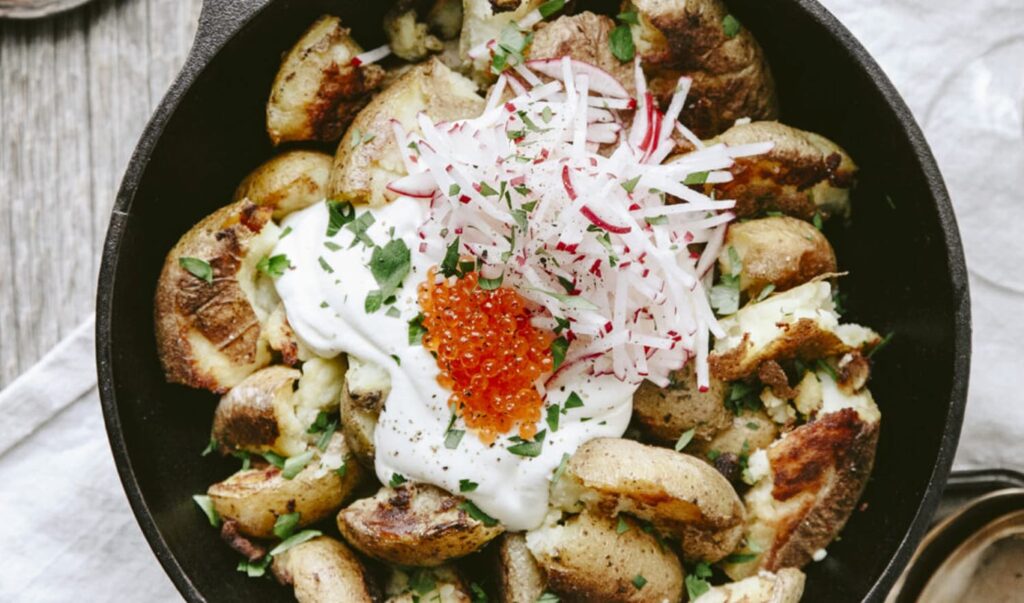 Ingredients 
10 to 12 yellow flesh potatoes 
1 cup  sour cream
¼ cup  35% cream
1 tablespoon lemon juice
1 tablespoon  Truffle Oil
2 to 3 tablespoons olive oil 
2 tablespoons Caviar or Salmon Roe
6 radishes cut into fine slivers
1 tablespoon  flat-leaf parsley 
Freshly ground pepper
Lemon wedges
Salt
Preheat the oven to 400 °F (204°C). Place the potatoes on a baking sheet and bake for 45 minutes. Meanwhile, combine the sour cream with Truffle Oil, cream, ½ a teaspoon of salt, and lemon juice. Set aside. When potatoes are ready, using an oven mitt and a paper towel, smash each potato gently, with the palm of the hand. In an enamelled cast iron pan  heat one tablespoon of olive oil over medium heat. Grill each side of the potato, add a little oil if needed. Salt generously on each potato. Transfer to a large serving dish. At serving time, top the potatoes with the sour cream mixture, Caviar or Fish roe, radishes, chopped parsley and freshly ground pepper.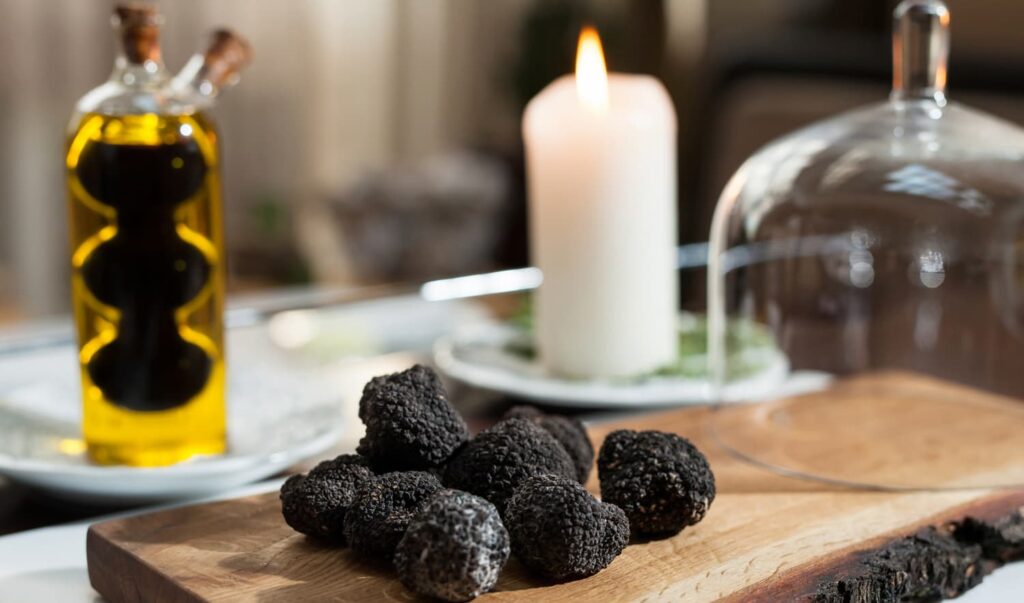 Are you ready to start cooking with Truffles? House of Caviar is your go to online store if you want to buy the highest quality delicacies, including Truffles, meats, specialties and of course, Caviar! Visit our online store and find everything you need just a click away from your home. We'll be looking forward to seeing you!