Tagged with:
american caviar
•
best caviar
•
best way to eat caviar
•
buy caviar online
•
caviar recipes
•
how to serve caviar correctly
 You are a foodie that's splashed out on an exceptionally luxurious treat you have already tasted, and you felt its unique and incomparable flavor. Now, you want to know much more about this delicacy. You have come to this blog to find out what caviar is accompanied by to make an exquisite dish and garnish it. Are you ready to find out? What are you waiting to read more in this new blog post?
Caviar is something that should be savored and made the most of. There are tins sold at all price points, containing different varieties, grades, and caviar sizes. Still, with such a revered product, it's essential to know how to serve it and what to do with it, so you can enjoy it at its best. And while it may sound counter-intuitive, sometimes serving other foods alongside the delicate eggs can help bring out their favorite flavor.
That is why today, we will talk about how to accompany caviar and how to serve it. Welcome to the world of caviar
What do you eat with caviar?
As a very general rule of thumb, you should serve fewer side dishes as your caviar's quality increases. The finest, most expensive caviar should only be eaten on its own. Still, if you are serving more affordable eggs at an event, other side dishes can enhance its flavor.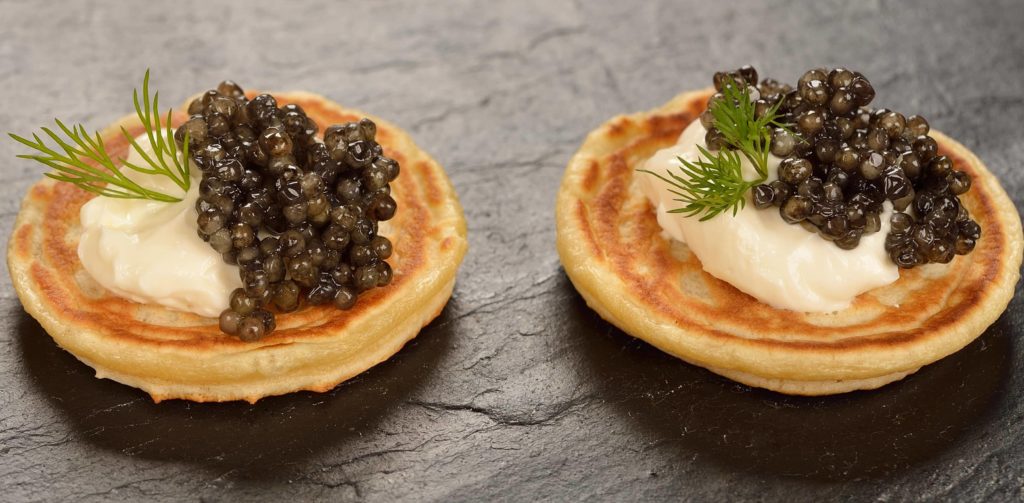 Traditionally, caviar is served on top of blinis, which are mini Russian pancakes made from buckwheat.The blinis act as an edible dish that has a discreet flavor. In this way, they are perfect for serving caviar as a canapé.
Another way is to serve it with crackers or crusty pieces of bread that add a nice crunch and allow the caviar flavor to pop.
They can also be served with lightly buttered bread or simple boiled potatoes; this increases the caviar's flavor.
Other flavors that go well with caviar include chicken or quail eggs, raw onion, and creme fraiche. You can make the eggs and finely chop the onion, then use it to coat the blinis with caviar and a small dollop of creme fraiche.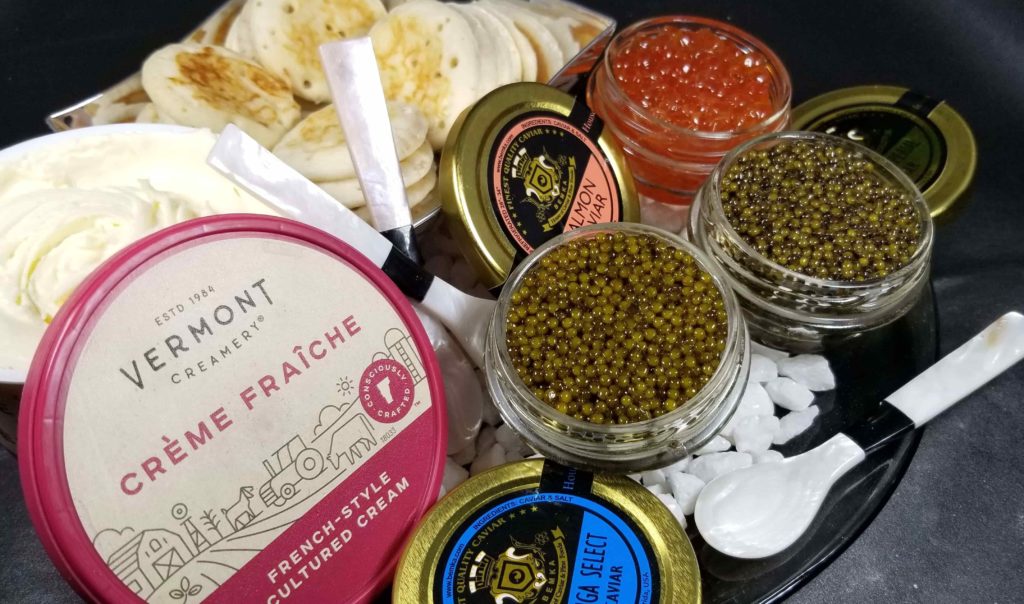 For its part, lemon does not work with caviar; the lemon juice is too overwhelming and clashes with caviar's mineral flavor. It is also not fair to add salt or any other seasoning to caviar; it has a natural salty taste.
The smooth, creamy flavors work very well with caviar, which is why egg, creme fraiche, and blinis make a great side dish.
Besides, caviar is perfect for covering hot dishes such as pasta (a ravioli is a good option), risotto soups, and even sauces. Caviar cannot be cooked as its texture and flavor are destroyed. However, it can be served on an already cooked dish. Cheaper caviar-like colorful salmon roe and tobiko roe allow you to get creative without spending a fortune and are especially suitable for homemade sushi or as a side dish.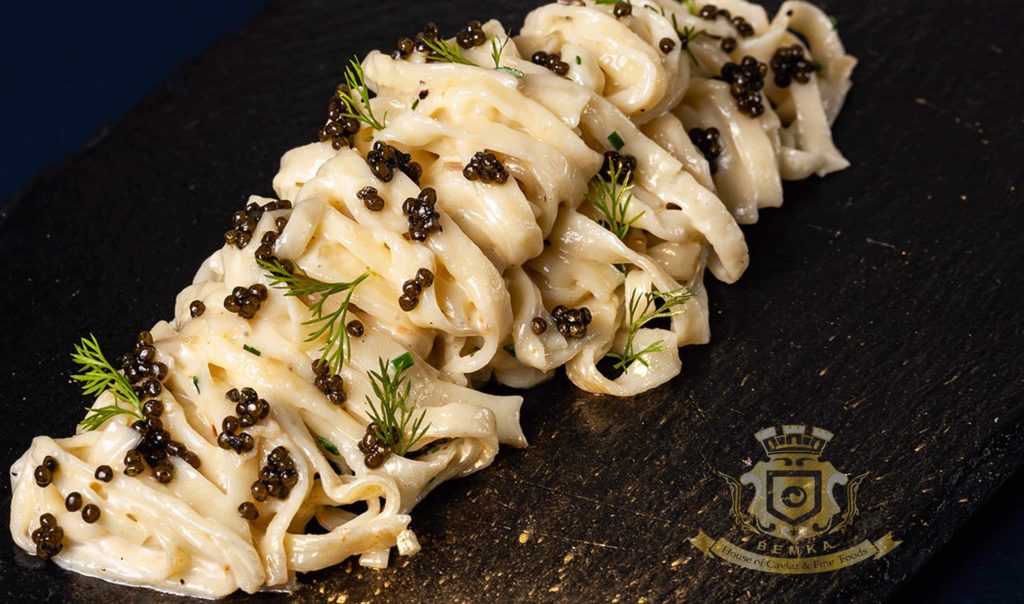 It is important to note that many chefs make lovely dishes with caviar. For example, Simon Hulstone serves him with a roll of scallops and prawns with a cauliflower puree. At the same time, Marcus Wareing prepares a luxurious starter of Burrata salad, peas, grapefruit, caviar, and leeks. Many Chef Hideki Hiwatashi's recipes use caviar as a garnish on raw fish dishes. At the same time, Kevin Mangeolles combines caviar with vegetables and dairy like organic carrots cooked in goat serum.
How to serve Caviar?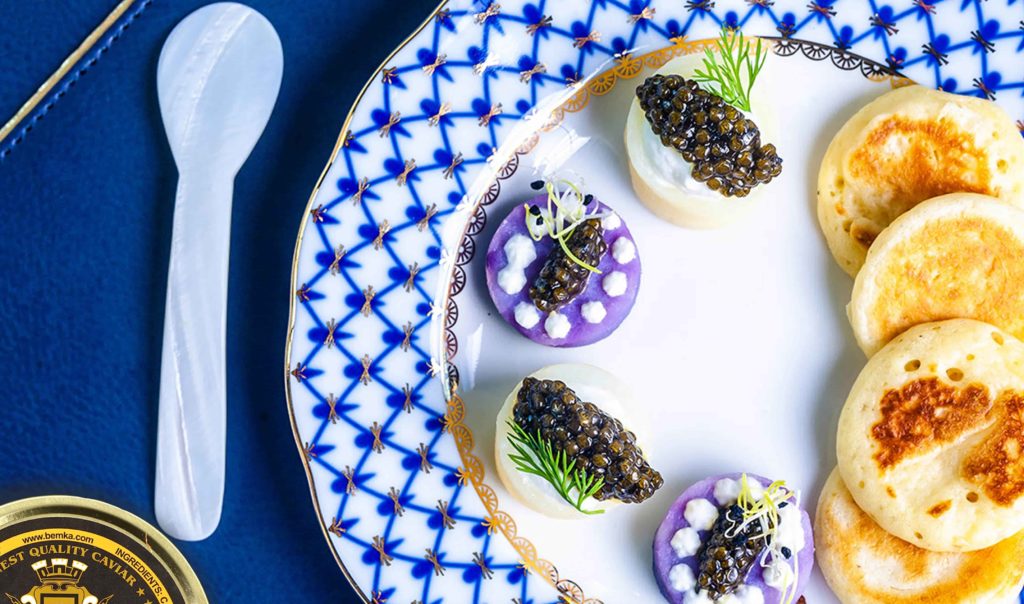 The most important rule is never to put metal utensils near the eggs; the metallic taste seriously affects the pure and salty taste of caviar. It will destroy the palate's subtleties, which is why the metal cans that caviar comes in are lined with plastic to take care of their taste. It is better to use a special caviar spoon, made of bone, plastic, or Mother of pearl.
Caviar should also be served cold, so it is best to keep it refrigerated and decant it into a cold container, preferably filled over ice. You will feel its refreshing flavors, which almost clean the palate, and will make you enjoy your precious delicacy in the best way.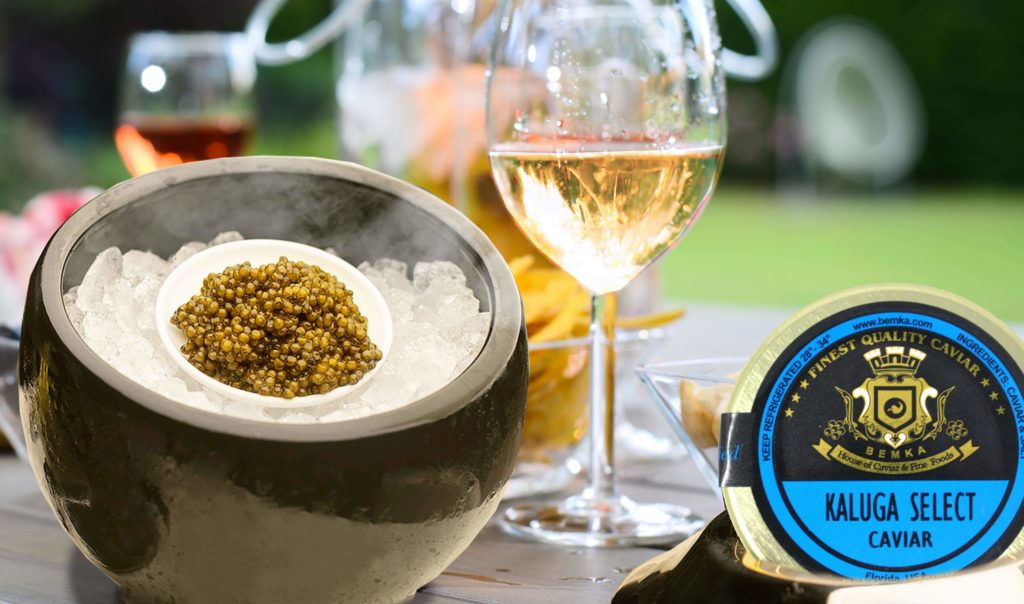 Do not spread or crush the caviar; you will break the eggs' delicate skin and destroy the texture. One of the highlights of tasting caviar is letting each egg roll onto your palate. And then pop when you bite into it, so use the spoon carefully when serving caviar.
True caviar gourmets believe that the best way to eat and serve fish eggs is without additives, just caviar, and that's it. They think that only then nothing can prevent you from feeling this highly appreciated flavor.
Now, having all the necessary information to serve this delicacy, you can buy a delicious jar of caviar at the House of Caviar. Do not forget to present the caviar properly to your guests and enjoy a delicious meal.