The countdown to 2022 has begun! This New Year's Season will be a reason to celebrate with the ones you love the most and one of the best ways to do it is enjoying a great New Year's dinner. If you're getting tired of eating the same thing year after year, why not try something new, tasty and elegant? This New Year's Season make sure Caviar is on your table. In case you're not sure how to serve Caviar for New Year's Season, no worries! House of Caviar is sharing with you our top recommendations of Gift boxes available in our online store.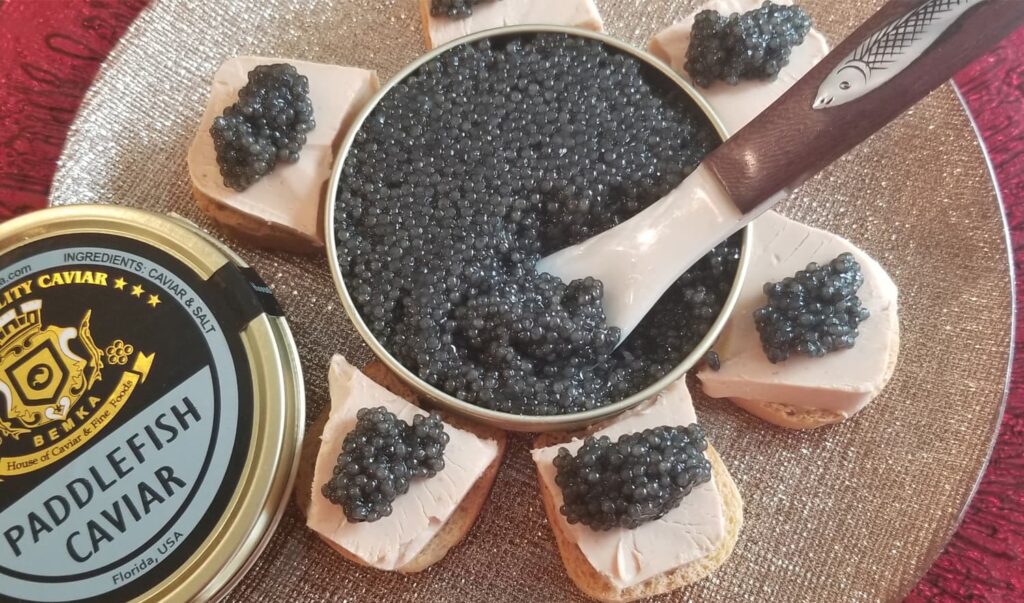 A great year must start with great food and Caviar is way beyond. Caviar is like diamonds when it comes to food. No matter your budget, serving Caviar on your dinner table will always surprise your guests and present you as a fine host or hostess. But what are the options? There are plenty! The first thing you should know is there are lots of types of Caviar but mainly two categories: Imported and Domestic. Imported Caviar is the one produced in Europe originally from the Caspian Sea, and Domestic is the one harvested, produced and commercialized in the U.S. 
Furthermore, there are other types of roe known as "Caviar substitutes" which you'd like to keep in mind as well. However, the top five Caviars you should be familiar with are: Beluga, Ossetra, Kaluga, Sevruga and Domestic Caviar. This category of American Caviar includes Paddlefish and Hackleback Caviar. 
Now you know some of the types of Caviar to choose from, you may be wondering how to serve it this New Year's Season? There's a common belief that the only way to eat Caviar is by itself, but actually, Caviar can be eaten in endless ways. There are many different Caviar accompaniments you could enjoy with your Caviar. One of the most well-known pairings is Caviar and blini. Blinis are basically a small pancake or crépe made with leavened batter. They pair beautifully with Caviar and  they're commonly topped with crème fraîche. You can also find Blinis in our online store, check our specialities tag and find much more!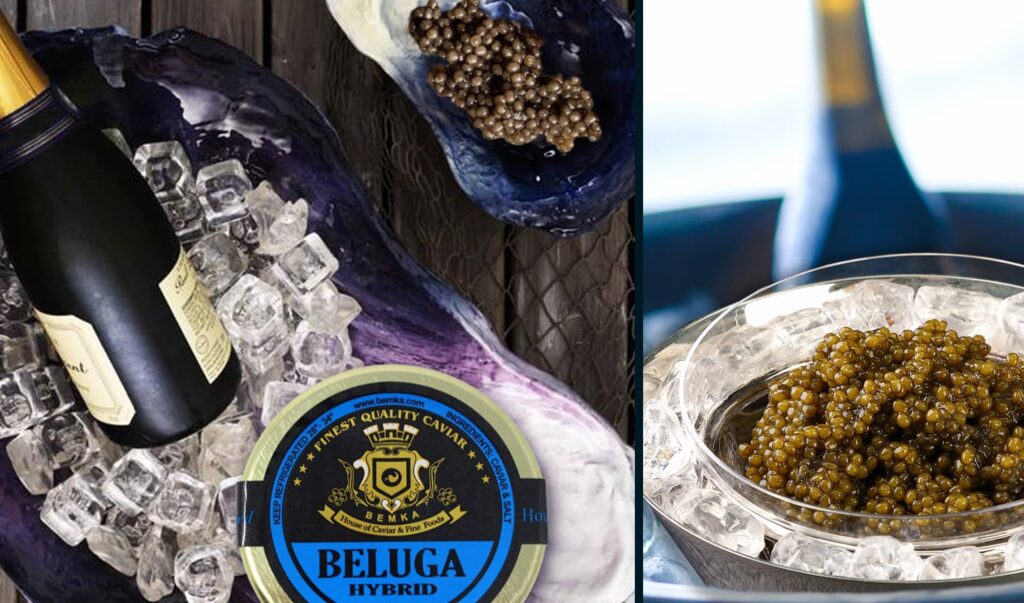 Crackers are also a very common pairing for Caviar. A warm, fresh piece of bread, baguette toast-point, or even unsalted potato or pita chips can serve as your Caviar carb-base. No matter which accompaniment you use, remember Caviar is eaten in small portions, often smaller than a tablespoon. It is recommended to take small bites and savor the subtle flavors and texture. And what about the drinks? 
Caviar is usually served with champagne and vodka. Mild lager or blonde beer pairs nicely with some types of Caviar, however Caviar experts also conclude you can pair it with the drinks you like the most.
It's time for our top New Year's Season recommendations. Are you looking for a gift or planning to buy a full set for your dinner table? These are House of Caviar's gift boxes and they're just what you're looking for.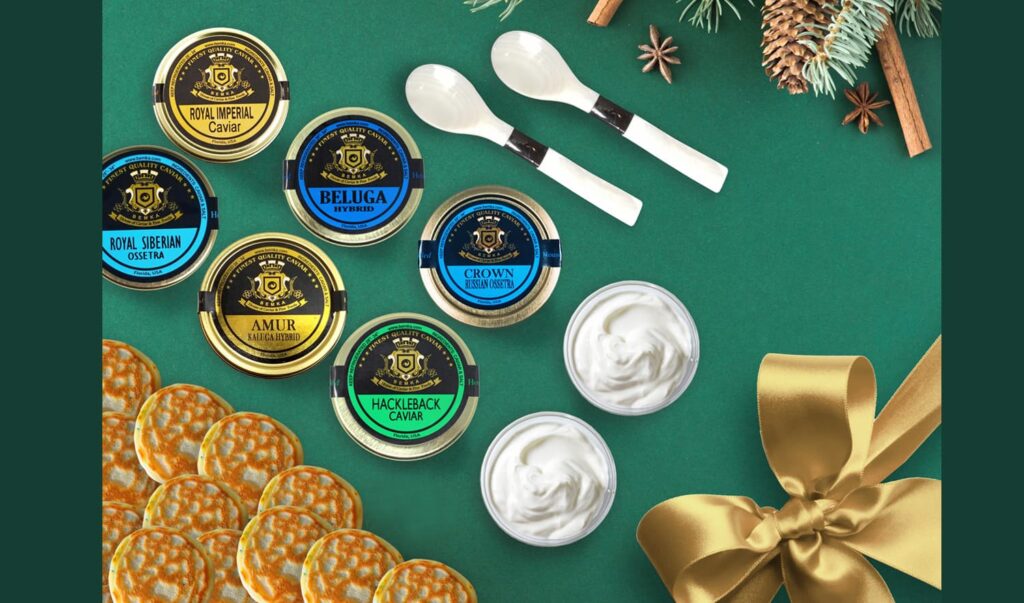 This is a perfect box for Caviar enthusiasts. Experiment with six different Half-ounce jars of our best-selling Caviar.
This set includes:
1- Royal Imperial caviar (1/2 oz)
1- Beluga caviar (1/2 oz)
1- Crown caviar (1/2 oz)
1- Royal Siberian Ossetra caviar (1/2 oz)
1- Amur Kaluga Caviar (1/2 oz)
1- Hackleback caviar (1/2 oz)
2- Creme Fraiche (1.25 oz Ea)
2- Mother of Pearl spoon 
1- French Blinis canape (16 count)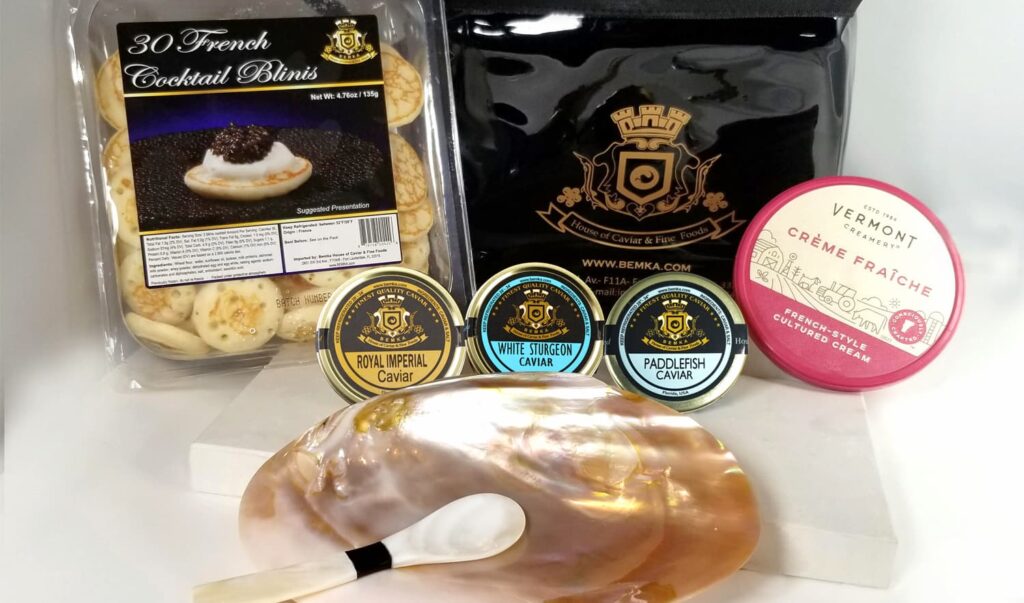 Want to try Caviar but want to take it easy? This is an ideal box for curious eaters. 
1 – Royal Imperial Caviar 1 oz
1 – Premium White Sturgeon 1 oz
1 – Paddlefish caviar 1 oz.
1 – Creme Fresh 8 oz
1 – Mother of Pearl Spoon
1 – Mother of Pearl Dish
1 – Blini Traditional Size 30 pc.
Prestige Collection Gift Basket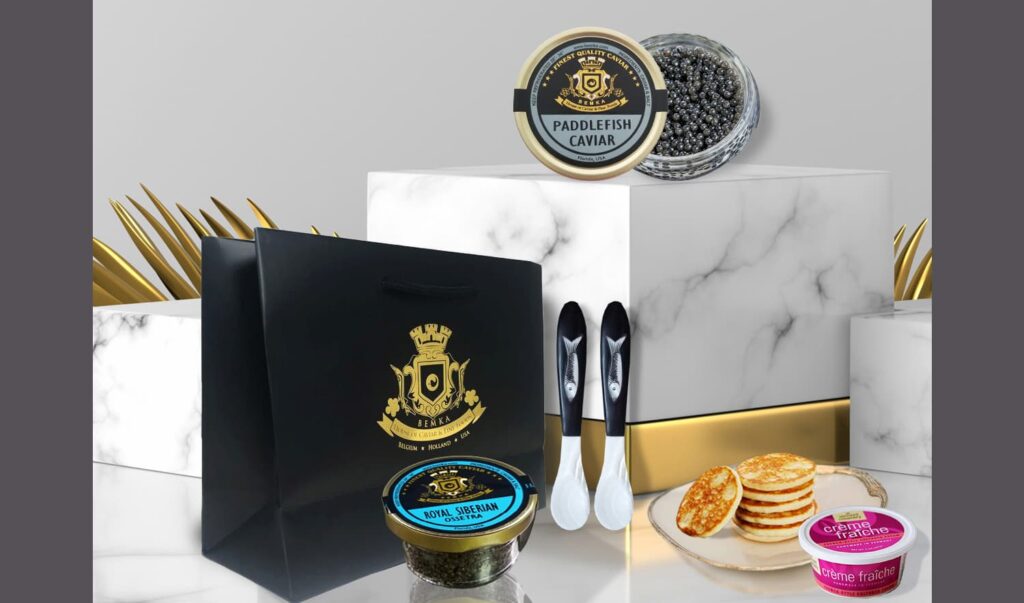 Dinner for two? This Caviar box has all the essentials for a small but fine table. 
This basket includes: 
– 2 Mother of Pearl Spoons
– 1 Mother of Pearl Server
– 1 Crème Fraiche
– 16 Blinis
– 1 Paddlefish Caviar (1oz)
– 1 Royal Siberian Caviar (1oz)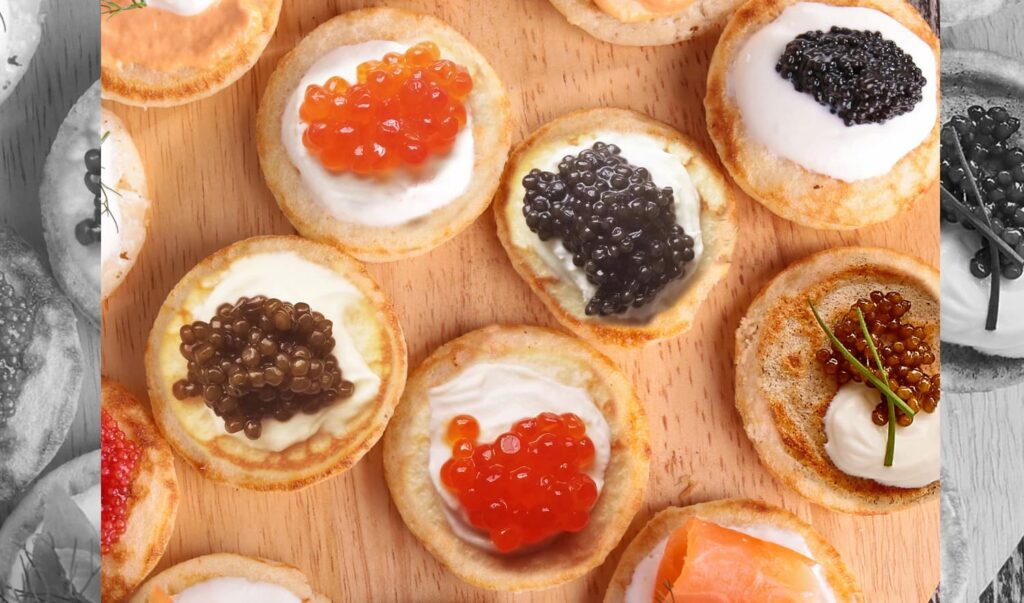 So, which one are you having? You can also check the rest of the products available in our Gift section. Maybe some American Caviar and accompaniments like Foie Gras works for your New Year's eve dinner, too. Whatever you decide to get, make sure you buy in a reputable store like House of Caviar. Visit our online store and discover all the types of Caviar available and fine foods as well.  Come and visit! We'll be more than glad to have you.