Caviar is recognized worldwide as a delicacy. If you're  looking for a special, luxurious and exotic meal, you should definitely go for Caviar. You can enjoy it by itself but if you're thinking about how to pair it, House of Caviar will give you some ideas of how to serve Caviar and we'll leave one last great idea for the end. Traditionally, Caviar is served on top of blinis, which are mini russian pancakes made from buckwheat.The blinis act as an edible dish that has a discreet flavor. In this way, they are perfect for serving caviar as a canapé. Another way to pair Caviar is to serve it with crackers or crusty pieces of bread that add a nice crunch and allow the Caviar flavor to pop.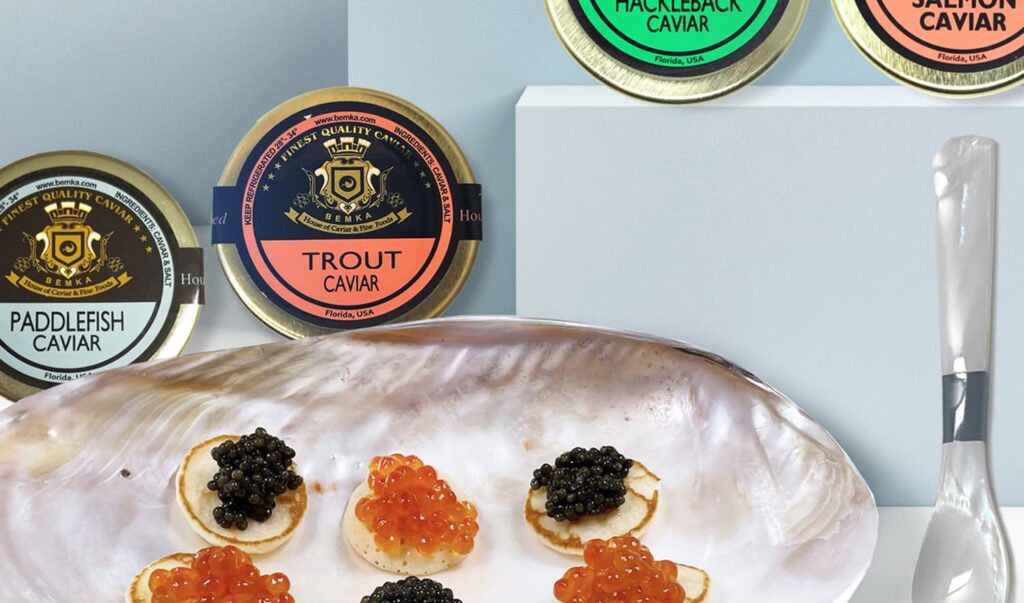 They can also be served with lightly buttered bread or simple boiled potatoes; this increases the Caviar's flavor.Other flavors that go well with caviar include chicken or quail eggs, raw onion, and creme fraiche. You can make the eggs and finely chop the onion, then use it to coat the blinis with caviar and a small dollop of creme fraiche.
Caviar cannot be cooked as its texture and flavor are destroyed. However, it can be served on an already cooked dish. Caviar is perfect for covering hot dishes such as pasta (a ravioli is a good option), risotto soups, and even sauces. Cheaper Caviar or "Caviar substitutes" like colorful salmon roe and tobiko roe will allow you to get creative without spending a fortune and are especially suitable for homemade sushi or as a side dish.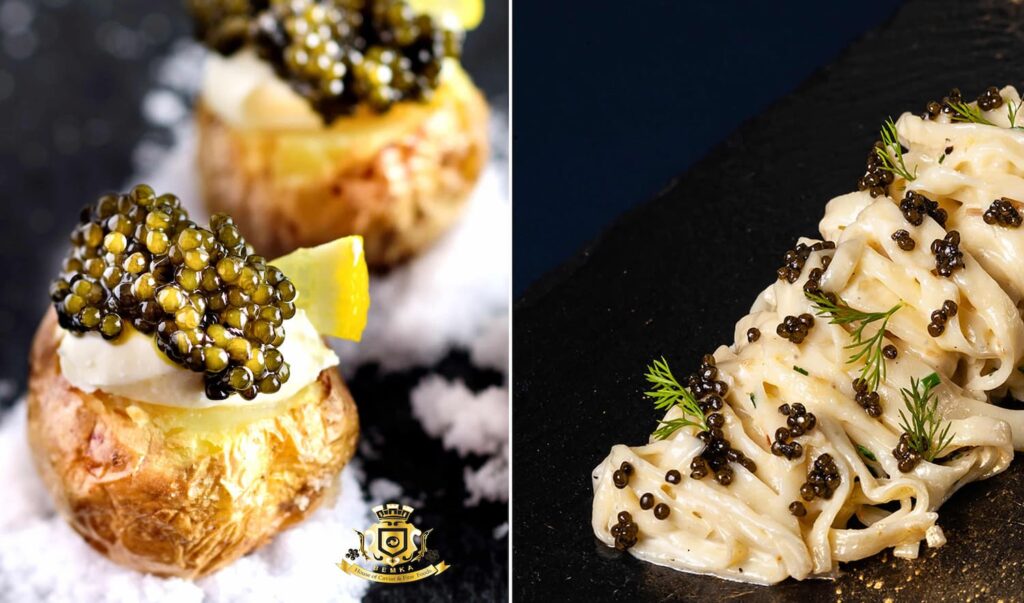 So far we've given you many ideas, but have you ever considered trying Caviar with Lobster? Yes! You're reading okay, Lobster! Fish and shellfish, such as Lobster, are especially important not just  for being delicious but for  providing omega-3 fatty acids, which are found in very few foods. And although Lobster may seem like an expensive, decadent treat, there are many ways of including this yummy seafood in  your diet. For example: 
Use lobster as your main protein source.

Add lobster to pasta or rice dishes.

Mince lobster to top salads.

Make lobster patties or burgers.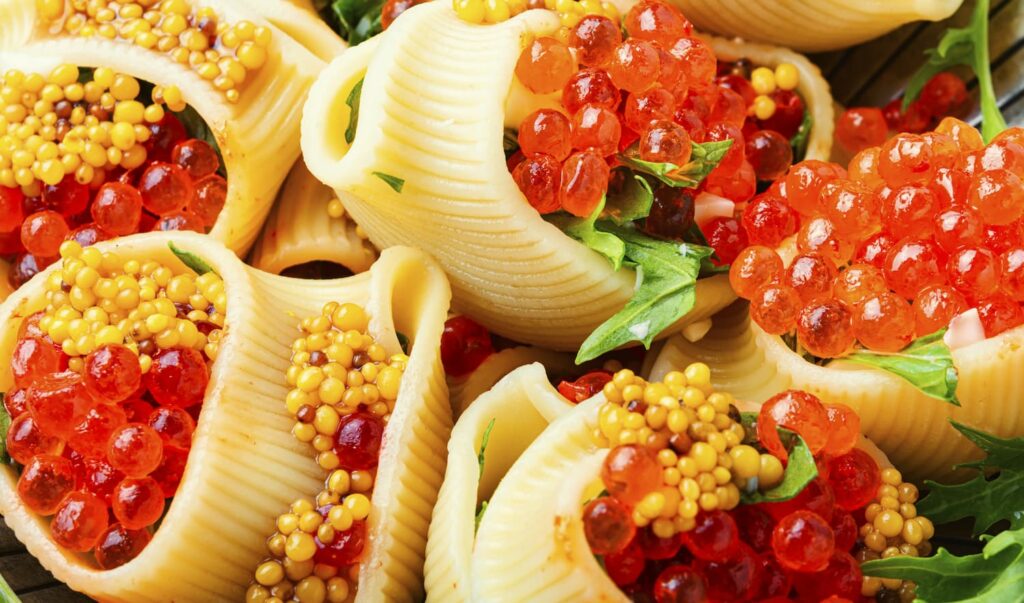 And the best way we recommend you to serve Lobster includes Caviar! And also, eggs. These three ingredients work perfectly whether you're having a brunch o a dinner at home with family or friends. 
Lobster and Caviar Deviled Eggs 
Ingredients
1 dozen organic eggs
3 – 4 tablespoons mayonnaise
2 tablespoons grated onion
1 tablespoon yellow or dijon mustard
2 tablespoons lemon juice
2 teaspoons sour cream
1 teaspoon chives, chopped
¾ cup cooked lobster tail meat or lump crabmeat, finely chopped
Salt and pepper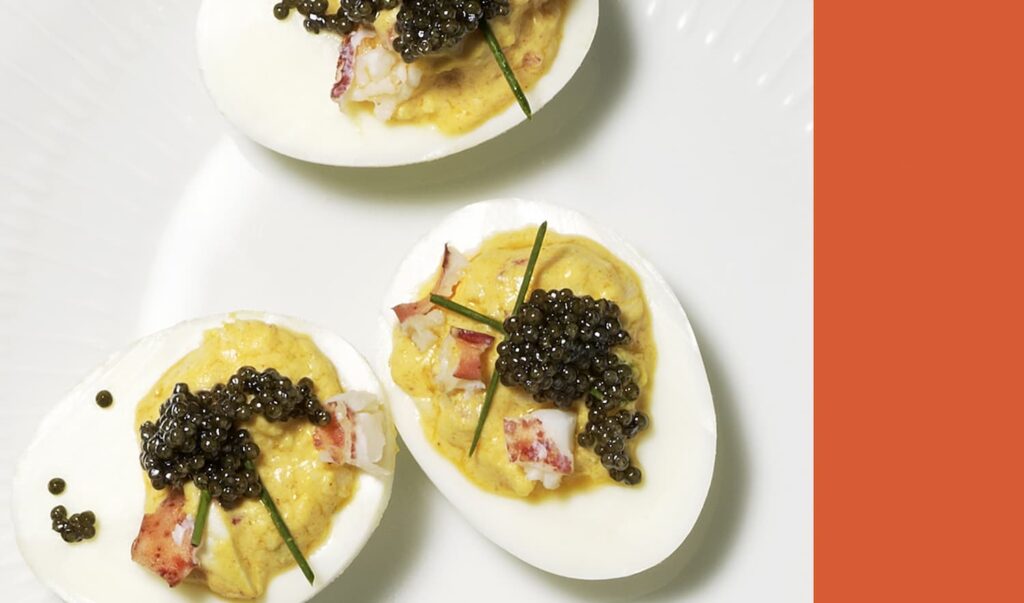 Chopped fresh chives and Caviar for garnishing
Place the eggs in a pot, cover with cold water and bring to a full boil. Turn off the heat, cover and let stand for 10 minutes; drain and run under cold water until cool enough to handle. Peel the eggs and half lengthwise (or trim the tops to expose the yolks, then trim the bottoms to stand the eggs upright). Remove the yolks; transfer to a bowl. Add the mayonnaise, onion and mustard; season with salt and pepper. Mash until smooth. Add lemon juice, sour cream and chopped chives. Fold in finely chopped cooked lobster tail meat or lump crabmeat.Cut a corner off a resealable plastic bag; fill it with the yolk mixture. Pipe into the egg whites. Garnish with chopped fresh chives and your choice for Caviar. 
Lobster Eggs Benedict 
Ingredients 
Lobster
English muffins
Eggs
Vinegar
Hollandaise Sauce
Caviar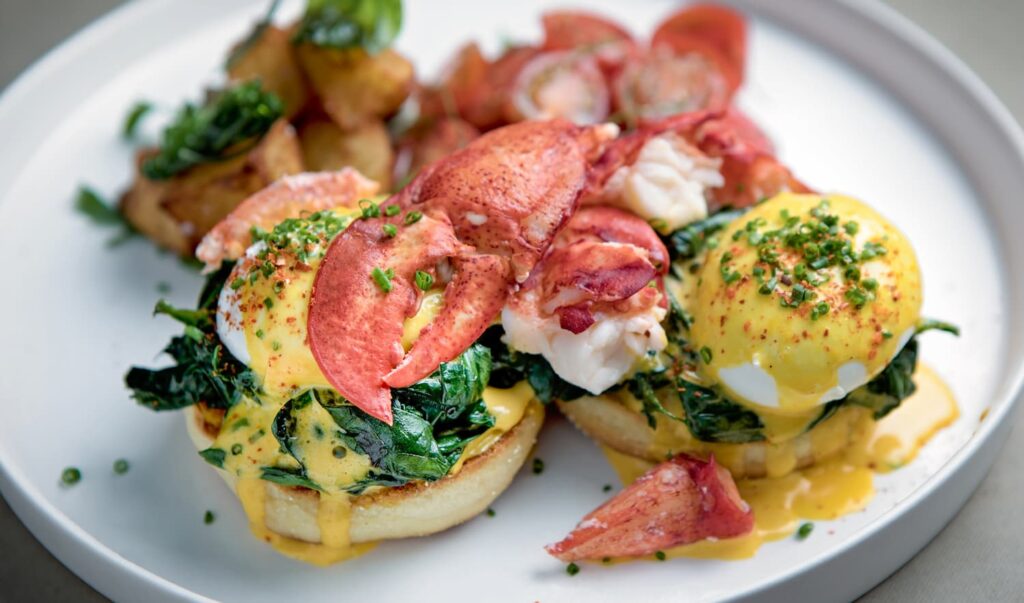 Make Hollandaise Sauce or buy your usual one. Prepare Lobster and place it onto one half of a toasted English muffin. Poach eggs. If you don't know how to do it, these are the instructions: bring water to a boil in a medium saucepan, then add 1 tablespoon of vinegar. Once the vinegar-water is brought back to a boil, crack 1 egg into a measuring cup and ease into the pan. Then, cook for 3-4 minutes, depending on your yolk preference.Using a slotted spoon, remove poached egg from boiling water and pat dry with paper towels. Place it on top of the Lobster. Pour Hollandaise Sauce over egg, Lobster, and English muffin.  Top with a generous spoonful of your favorite type of Caviar. 
So, are you ready to start serving Caviar with Lobster at home? Make sure to buy your ingredients in a well reputed store. House of Caviar offers you a great variety of Caviar (Imported and Domestic), seafood like Lobster and Crabs, meats and specialities, there's a lot to discover! Visit our online store and find the product you're looking for. The best products are just a click away from your home. Come visit us, we'll be glad to have you!