Indeed in every kitchen, the preparation of Christmas Eve dinner or Christmas meal prevails. Still, the rhythm of the holidays does not stop! Although we have a few days of absolute calm, we must not lose sight of the grand celebration with which we will say goodbye to the year. Do you need original ideas for New Year's Eve dinner? Here we will give you some ideas so that you have some original recipes.
It is good to improvise a little each year without repeating the menu, especially on a particular date. For some reason, New Year's Eve is always a date to experiment with different recipes. We consider that the last dinner of the year is perfect to surprise with other dishes and distinct flavors. It is an excellent way to welcome the new year with renewed air and a desire to try new things. To inspire you a bit, here are many ideas with which to give variety to your menus.
Appetizer table with caviar and Iberico ham
The appetizers to serve on New Years' Eve table cannot be missing, and what better way to do it than with a variety of appetizers. It is a way to enjoy the combination of flavors at the table.
This time we tell you two different sauces to spread on bread, a typical tomato sauce, and another idea that they show us in Cookpad "Aubergine Cream." Also, a table of appetizers that stands out for caviar and Spanish meat. Look at this delight.
Ingredients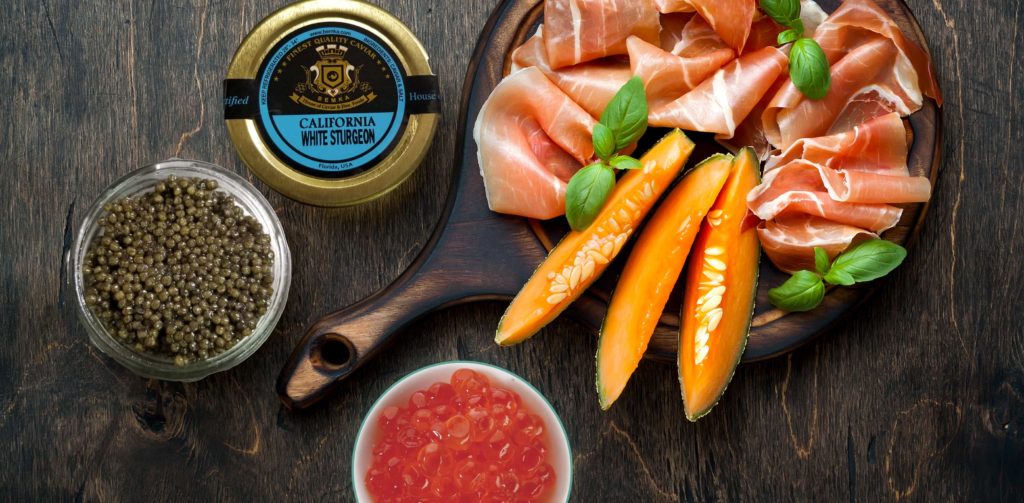 22 slices bread

4 ice cream cone with chocolate-covered 

One tiny pumpkin

Four crab sticks 

Beluga Caviar

(

Black Caviar

)

Trout Caviar

(

Red caviar

)

Spread cheese

Four candied cherries

Quince

Eggplant sauce

Ketchup
Find the variety of caviar and Spanish meat that we offer you by clicking on the links.
Steps
1.We start by preparing both sauces.
2.The tomato sauce is made by merely washing, chopping a tomato, placing it in the blender glass, adding olive oil, salt to taste, and grinding.
3.The aubergine sauce is made by placing the meat of an aubergine roasted in the oven. Two raw peeled garlic, the juice of ½ lemon, one natural unsweetened yogurt.  Two fingers of olive oil, pepper, salt, and cumin in the glass from the blender. We grind, then we test and rectify the flavor until it is adapted to our palate.
4.Steam the pumpkin until tender.
Once the pumpkin is cooked, we split it lengthwise, we remove its meat, being careful not to break its skin that we will use as a container.
Mix the pumpkin meat with approximately the same volume of the aubergine sauce.
We chop the crab sticks, mix them with the aubergine sauce, and fill the pumpkin halves with this mixture.
5.Place in each ice cream cone a tablespoon of cream cheese, a piece of quince, and decorate with a candied cherry.
6.Spread 14 slices of bread with the tomato sauce and cover half with Iberico Ham and the other half with Iberico Bellota Ham.
7.Cover the remaining eight slices of bread with the aubergine cream and place the two caviar types that we indicate on them.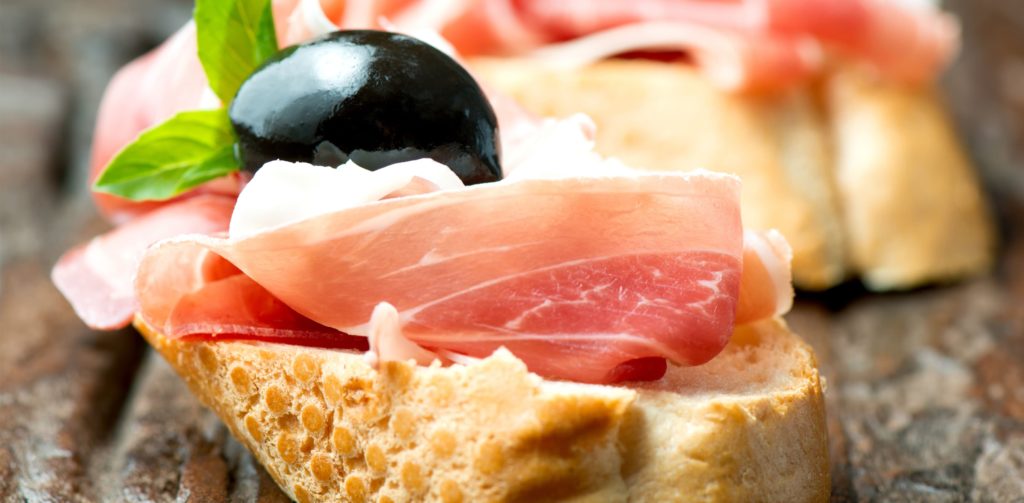 It only remains to distribute all our appetizers on plates and serve.
Duck meat recipe with mango chutney
Duck meat is ideal to combine with different types of fruits.  That is why this recipe for duck breast with mango chutney is perfect to look good in front of diners with a delicious garnish on New Year's Eve.
Duck meat,  looking like cultured meat reserved for parties, is affordable for its price and easy to find in any market. It is made very quickly and easily.
Ingredients
Sugar 15 g
Port wine100 ml
Balsamic vinegar 15 ml
Chicken broth 150 ml
Fresh rosemary 2
Large ripe mango 1
Apple cider vinegar 125 ml
Sugar 90 g
Dijon mustard 2.5 ml
Clove 1
One pinch of ground ginger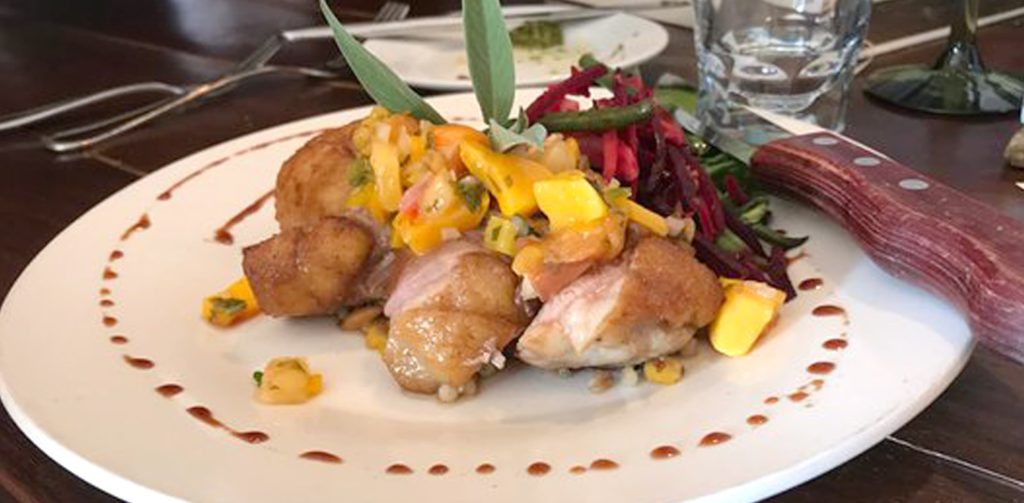 Preparation
We will start by preparing the mango chutney. For this, we cut the peeled fruit into cubes and add it to a pot with apple cider vinegar, sugar, mustard, ginger, and cloves. Cook for 20 minutes, stirring from time to time to not stick, and take care that the mango pieces do not fall apart excessively. We booked.
We will continue making cross cuts in the fat of the duck meat with a sharp knife. Then we put a frying pan on the fire without oil and heat it well, browning the meat for seven minutes on the skin side and another four on the opposite side. Season and reserve wrapped in aluminum foil.
To make the sauce that will accompany the meat, we remove the pan's fat, leaving only the bottom and adding the Port. The sugar, the vinegar, and the poultry stock, as well as a little fresh rosemary, we cook until it is reduced in the middle, and we reserve it hot.
With what to accompany the duck meat with mango chutney?
It is served sliced ​​and salted with the sweet and sour sauce accompanied by the mango chutney. It is a delicious combination of sweet and salty and very appropriate when we want a dish with a different and unique flavor. We can complete the menu with a little aromatic rice, roasted vegetables, mashed potatoes, or a salad.
We hope that these new recipes and ideas for New Year's Eve dinner will be of great help to you and that you put them into practice.
At House of Caviar for these select dates, we always have the best variety of Caviar, exquisite meats, and ideal gifts to give at the end of the year.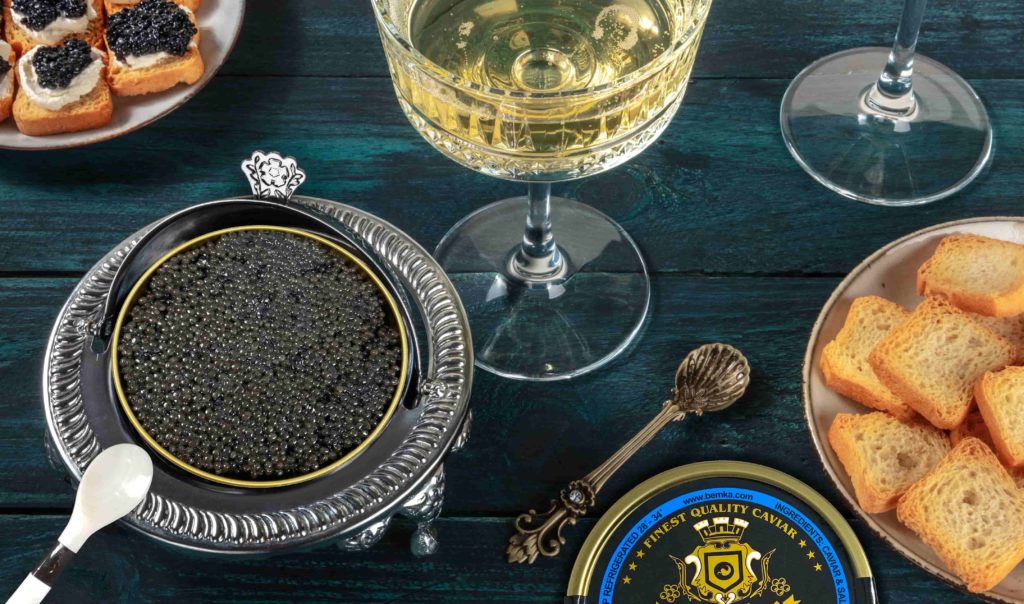 Enjoy everything we have for you on these special dates. What are you waiting for? Visit our website and Happy new year!