Caviar is one of the top delicacies in the contemporary world. However, Caviar is not a current trend, people have been consuming it for hundreds of years. Beginning in the 1800s, fish eggs were harvested and consumed from other fish species but none have achieved the status of "true caviar". Years later, the best quality Caviar comes from the countries around the Caspian Sea. Our caviar, Caviar farmed in regions like Italy, Romania and China producing the highest quality, and most in-demand Caviar in the world.
Back in the early days, Caviar was harvested from the wild sturgeon swimming in the Caspian and Black seas. The fisherman would capture the fish, cut out the "roe sacks" that held the eggs, and throw the fish back in to die. This overfishing critically endangered the wild sturgeons. Today, most of the world's Caviar is being farmed across the globe, from China to the Middle East to Madagascar. 
Although most of the Caviar comes from other regions different to the original ones(Domestic Caviar), Imported Caviar still being the "big deal". Of the 27 sturgeon species, fishes like beluga, sevruga, and osetra have long dominated the Caviar world. Today you'll learn a little bit more about them and if you're getting excited for cooking, we're sharing recipe ideas for each. 
Beluga: is one of the most exquisite and exclusive types of Caviar. Its texture is delicate, smooth and buttery and the taste is long and complex. And when it breaks inside the mouth it is described as "magical". However, its uncontrolled exploitation has put these types of fish at serious risk. This is the reason why Beluga Hybrid exists, a sustainable option for enjoying this type of Caviar.  
Osetra: Ossetra comes in second in order of exclusivity, just behind Beluga caviar and before Sevruga. It is described as  soft and loose, and the taste it leaves in the mouth can remind you of the taste of walnuts. Although Beluga is on top of exclusivity, this is definitely the most popular one among all species. 
Sevruga: this may be the least expensive Caviar compared to the top three. The color of its roe is gray-black, and has the strongest flavor among Sturgeon eggs. It's becoming a popular choice among chefs and a favorite ingredient for seafood.
Cucumber And Sevruga Caviar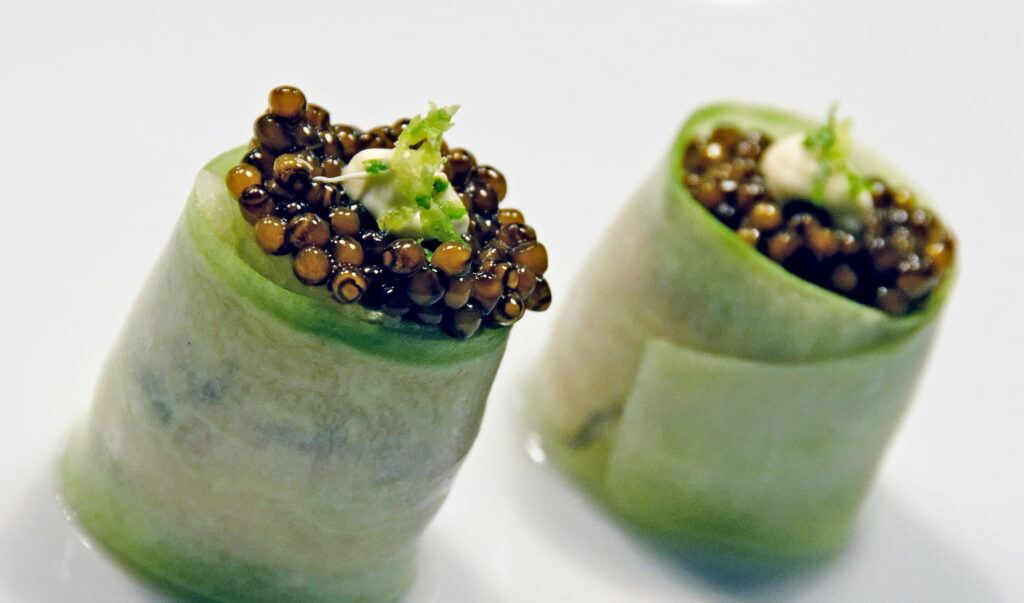 Ingredients
1 cucumber 
2 tablespoons Sevruga Caviar
50 grams sour cream
Start slicing the cucumber from one side like you will peel it and continue doing so till you get to the half of the cucumber. Turn the cucumber upside down and do the same thing. After you are done, start rolling the thin and long slice  and pit it on a serving plate. If it doesn't stay, use a toothpick to hold it together. With a teaspoon, put on each slice of cucumber a little sour cream and then the Caviar. You can serve it after you're done or keep it in the fridge for 30 min.
Pappardelle with Poached Egg and Beluga Caviar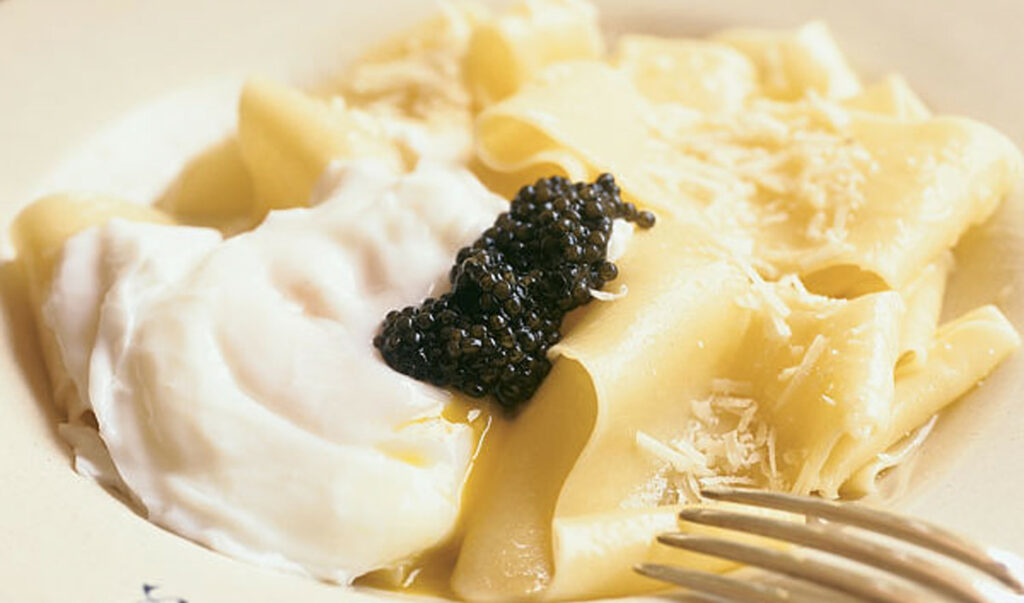 Ingredients
6 large eggs
1 Tbs. kosher salt
10 oz. good-quality dried pappardelle 
4 Tbs. unsalted butter
1/3 cup freshly grated Parmigiano-Reggiano
6 tsp. Beluga Caviar  
Bring a large pot of water (about 6 qt.) to a boil for the pasta. Meanwhile, fill a wide, shallow pan with water and bring to a gentle simmer. Crack each egg into a saucer and gently slide it into the simmering water. Poach the eggs until the whites are firm but the yolks are still runny, 2 to 3 minutes. Remove each egg with a slotted spoon, drain any water, and set on a warm plate. When the pasta water is boiling, add the salt and pasta. Stir frequently to keep the pasta from sticking. Use the cooking time on the package as a guide, but start checking 2 minutes sooner. When the pasta is al dente (soft but with some resistance left), drain it in a colander, reserving about 2/3 cup of the cooking water. Return the pasta to the empty pot and toss with 2 Tbs. of the cooking water, the butter, and the grated cheese. If it seems too dry, add a few more spoonfuls of water and toss again.Portion the pasta into six warm serving bowls, top each with a poached egg and the Caviar, and serve right away.
Prosciutto appetizer with truffled burrata, Osetra caviar and ligurian oil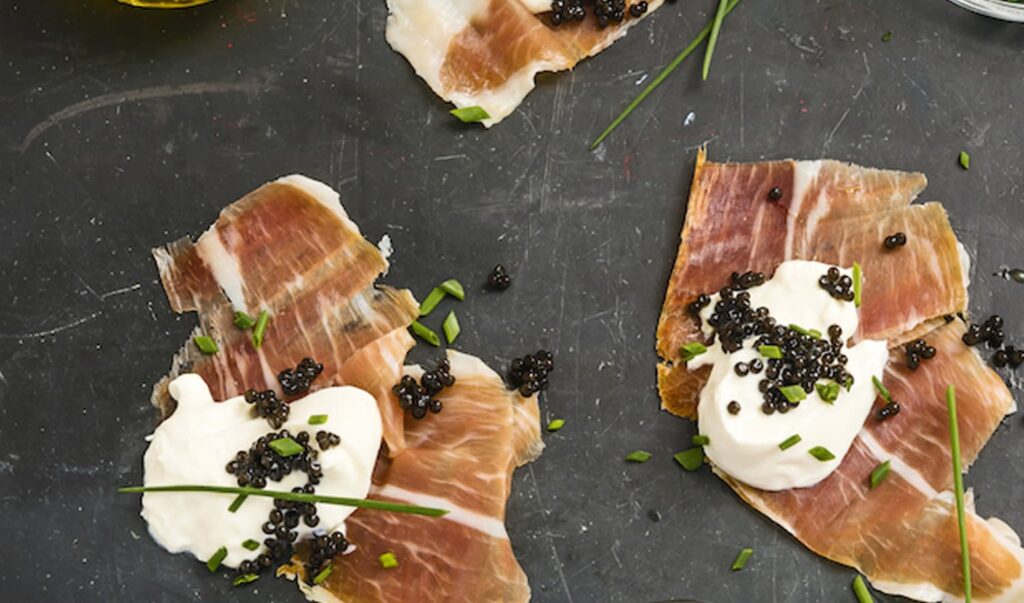 Ingredients
8 slices Prosciutto di Parma (preferably hand carved)
2 rounds fresh burrata cheese
2 ounces Osetra Caviar
1 small piece fresh white truffle for shaving
Olive Oil  for drizzling
1 teaspoon freshly cut chives
Place sliced prosciutto on plates. Quarter the burrata into wedges, place a piece on each prosciutto slice. Top with Caviar, oil, shaved truffle, and chives. Fold into a roll and enjoy. 
These are only a few recipe ideas. When serving any type of Imported Caviar, the experts say it is best served on its own and cold, although there are many ways you can present it for added taste on top of its already delicious aroma. Here are a few extra options for you to try: unsalted crackers, toast, blinis, crème Fraiche, lemon wedges, minced onions or potatoes. 
So, which one would you try first? Before buying Caviar make sure you go to a reputable store. Whether you're buying online or physically, always go for fine food stores or specialized places like House of Caviar. Visit our online store and find the greatest variety of Imported Caviar and all the accompaniments you need  for a perfect dish. Visit us! We'll be looking forward to having you.