You don't need to be a millionaire to order and taste Caviar. Although before this delicacy was exclusive to kings and queens, today we will tell you How to order Caviar without being a millionaire.
In Russia, during the 70s, it was widespread to have toast or blinis with Caviar for breakfast every day.
It was not as expensive a product as it is now since the supply was exceedingly abundant, and it was sold in large glass jars from the Caspian Sea. It was a product that was part of the diet of Russians.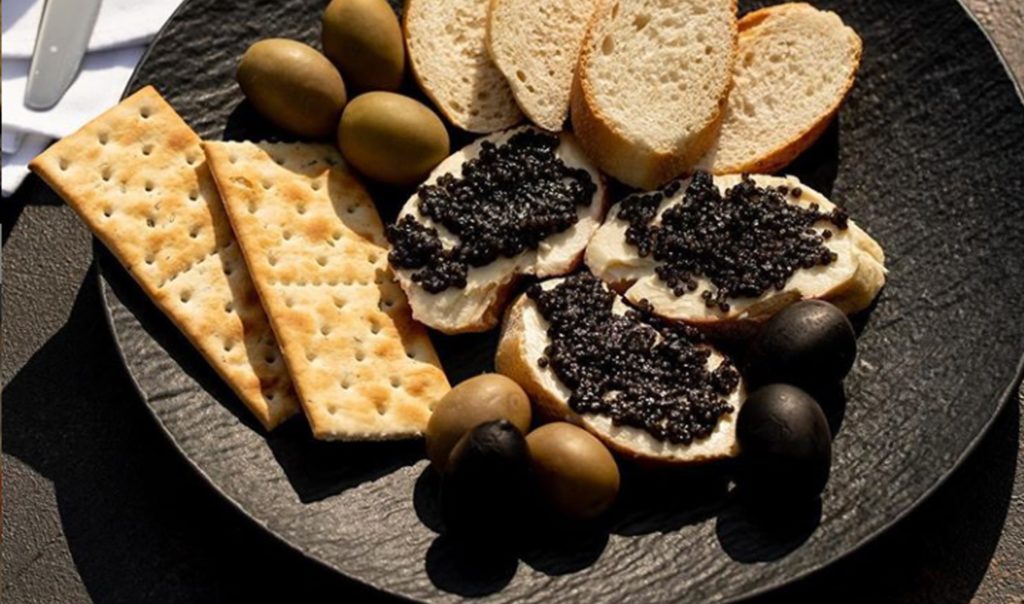 Today this has changed. The high prices that Caviar has reached during the last decades, has caused overexploitation, which has caused the sturgeon population to have been reduced considerably and their fishing has been prohibited. Thus, nowadays, it is only allowed to sell Caviar from fishing farms.
The truth is that, as a delicatessen aimed at wealthier families, Caviar is often found on the scenes of Shakespeare's plays, at high-society banquets, and eaten by kings and queens.
Along with foie gras, saffron, or black truffle, Caviar has become one of the Western cuisine's most appreciated delicacies.
However, it is also very accurate that to order good Caviar, you no longer need to be a millionaire. This article explains how to buy quality Caviar at a reasonable price in online stores in the United States.
Thanks to the introduction of sustainable Caviar, coupled with improvements in shipping, logistics, and technology. Being able to buy Caviar online or in person has become much easier (and affordable) than you may have realized. Specialty hybrids of specific kinds of sturgeon have made a variety of Caviar more available than before. While not real Caviar, both Hackleback caviar and Paddlefish Caviar offer delicious options at wallet-friendly prices.
Then we will talk about these options that the House of Caviar has for you.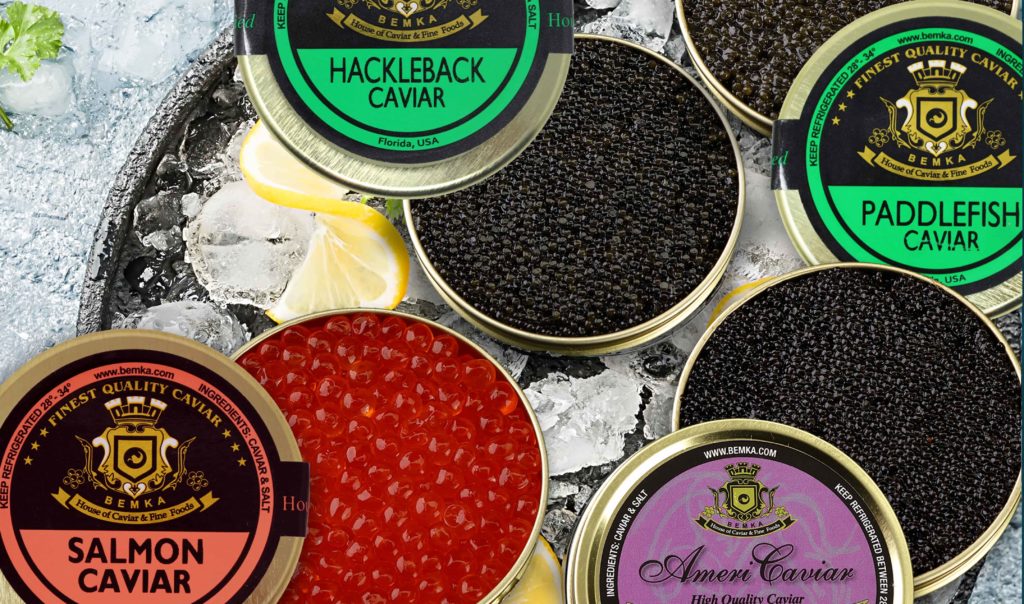 The paddlefish is a close cousin to the sturgeon that produces a roe similar to traditional Caviar enjoyed by adventurous chefs and curious connoisseurs.
After many years of research, our sourcing experts have finally found this paddlefish caviar worthy of the Bemka House of Caviar name.
Our American Hackleback fish roe tells you that this ripe American Caviar is black to dark brown.  Easy to love for its flavor and impossible to forget when tasting it. Smooth, fruity, and remarkably smooth from start to finish, this hackleback roe has recently jumped to the top of the lists of many Caviar connoisseurs. In addition to their friendly prices, the roe is also sustainably harvested from native sturgeon.
We also recommend other types of Caviar, equally delicious, of quality, and at an affordable price for you.
Bowfin American Caviar: The Amia Calva species of fish produce American Black Bowfin throughout the Southern United States.
California premium white sturgeon: This nutty-flavored Caviar is farm-raised white sturgeon native to California.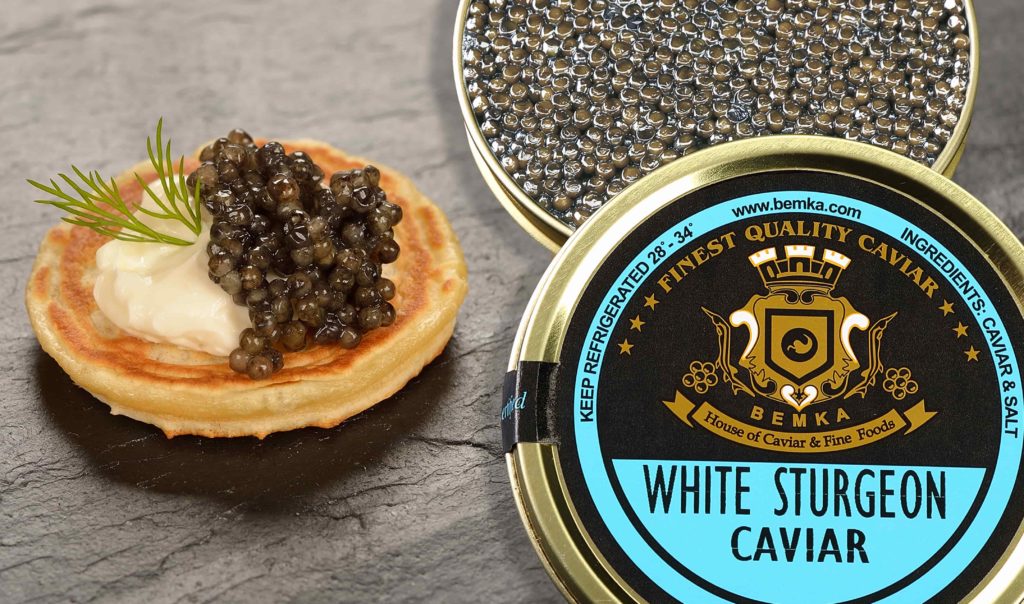 Golden Whitefish Caviar: Golden Whitefish Roe is native to the Great Lakes of North America, with natural, golden color and small, crisp grains.
Salmon Caviar: Our Alaskan Salmon Roe Caviar is from the most prized Pacific "Chum" Salmon
How much is Caviar? 
A pound of the best Caviar can easily cost more than a midsize car. Restaurants can quickly charge $ 200 or more for a single serving whether you have it in a fancy restaurant or home. 
However, suppose you went to the links that we put on this blog. In that case, you will notice that we have offered you excellent quality caviar at an affordable price. 
We give you some recommendations so that you know how to order your Caviar. 
1.Retail entry-level sturgeon roe will cost no less than $ 65 to $ 85 for 30 grams (a little over an ounce). Some of the excellent stuff starts at around $ 150 or more. Caviar service rarely costs less than $ 100 at a restaurant. That is why we give you the following solution. 
2.Consider eating Caviar at home. In restaurants, they do something that you can also do at home. They buy the Caviar, open the can and place it in a serving bowl alongside a blini and creme fraiche.
We invite you to do it from home buying our Caviar and these products. 
Most of the excellent roe you eat in restaurants is bought at places like House of Caviar. So if you are thinking of purchasing Caviar in the United States, we offer you ours at a reasonable price. The best thing is that the Caviar reaches your home. If you see that you don't need to be a millionaire to order Caviar? Order with us!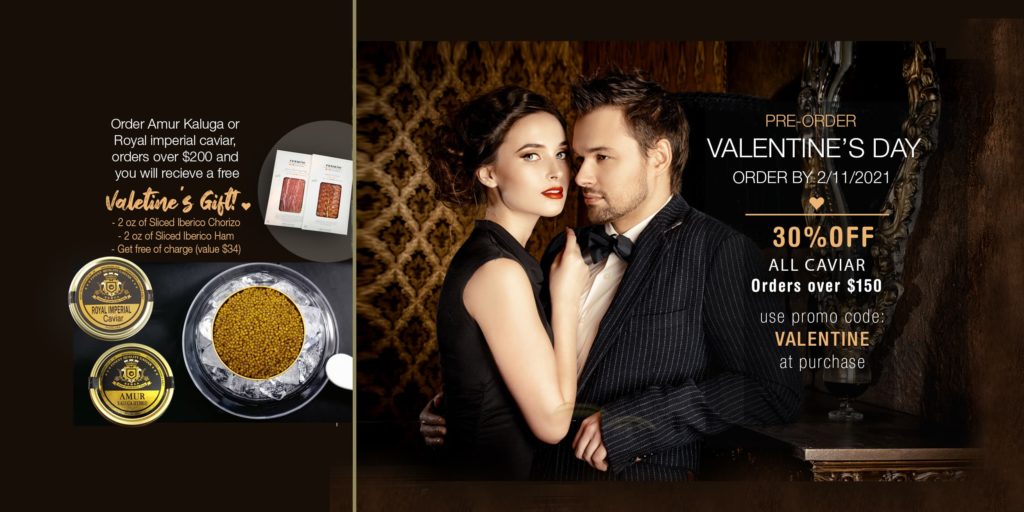 We have a promo for Valentine's Day: 30% off all caviar orders over $150. Order by 2/11/21. Caviar for every lovely person on your list!