Looking for a tasty, classy and affordable ingredient for your meals? The answer is Smoked Salmon. How to elevate a sandwich? Smoked Salmon. Want to prepare a different breakfast? Try Smoked Salmon with eggs. Planning a fancy dinner? Smoked Salmon and Caviar. This food is a life-saver in the kitchen and there are endless ways to serve it. But do you really know what it is? House of Caviar is telling you the basics you need to know. 
The word salmon comes from the Latin salmo, which later became samoun in Middle English. Many Indigenous tribes depended heavily upon salmon in their diet during that time. In the Pacific Northwest, they used to have Smoked Salmon for two weeks so it would keep without refrigeration. It was likely tough and less palatable than fresh salmon, but it wouldn't spoil over time.
Salmon was abundant on both the East and West coasts of America. For example, the waters of the Northwest are particularly abundant with salmon, where it is known as "Alaskan turkey."Also, in Hawaii, it is known as Lomi Lomi, a highly prized food.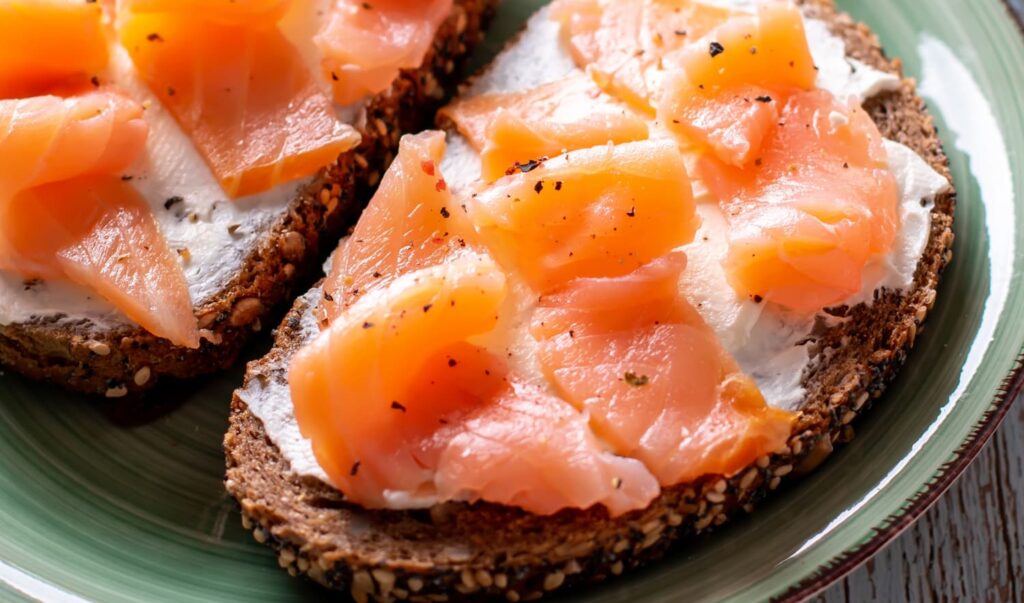 Nowadays, there are eight species of salmon in North American waters, five in Pacific waters alone. Worldwide, commercial salmon production exceeds one billion pounds annually, with about seventy percent coming from aquaculture salmon farms.
So far we already Salmon by itself; it's a big deal. But, what do we mean when we say "Smoked Salmon"? First, it turns out that "Smoked" is a pretty generic term that could refer to any number of products. The fish itself could be farm-raised or wild-caught, and the form could be cut into filets or sliced into steaks. Second, there's the cooking method; some Smoked Salmon is cured and cold-smoked to create a raw fish with a sushi-like texture, while others are cooked over hot smoke and turn out firm and flaky. 
There are three types of Smoked Salmon you should know about: cold-smoked, hot-smoked, and salt-cured lox and gravlax (which aren't smoked completely but it still counts). They all start out the same way: the fish is brined in a salt solution to pull out the moisture and prevent the growth of bacteria. After that, hot- and cold-smoked fish are dried and smoked, and lox takes a different path. 
Although, Smoked Salmon comes in a variety of forms,  the most popular is Lox. Lox, first appearing in English in 1941, comes from the Yiddish laks and originated in New York. Lox is cured in salt brine and is preferably made of Pacific salmon. This is  a majorly popular menu item usually served on a bagel with cream cheese. But wait, this is the time when we get to know the recipes! House of Caviar is sharing with you three easy and classic recipes with Smoked Salmon to try at home. Pick your favorite and cook for your family dinner or friends reunion and you'll never go wrong!
Blini with Crème Fraîche and Smoked Salmon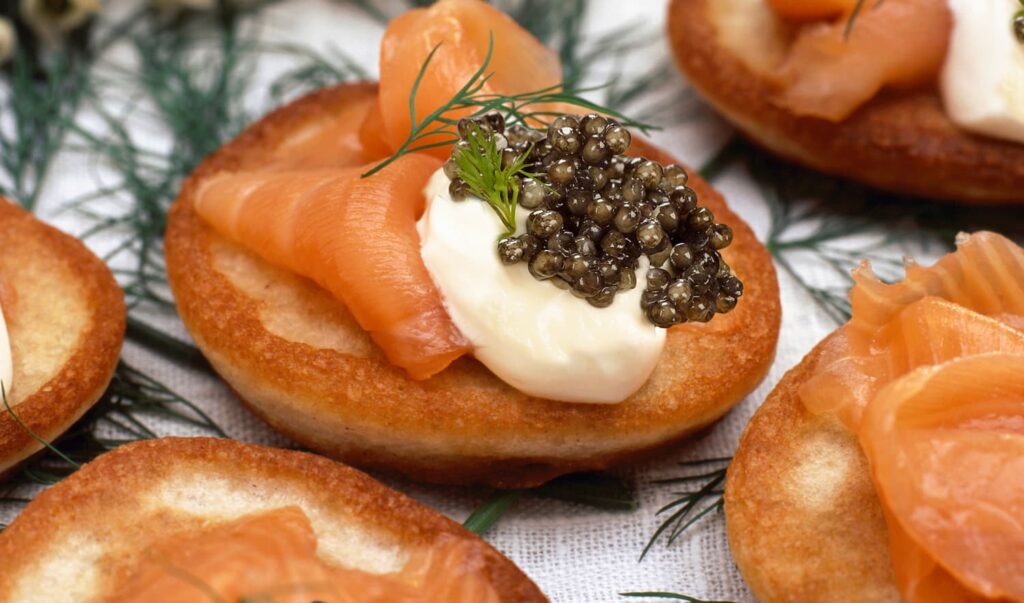 Ingredients
1 pack  Blini
2/3 cup creme fraiche
4 ounces Smoked Salmon
1/3 cup dill sprigs
freshly ground black pepper
Top each blini with 1 teaspoon crème fraiche. Divide the Smoked Salmon evenly between the blini, on top of the crème fraiche. Top each with a sprig of dill and a grating of freshly ground pepper. You can also top with a tiny spoon of Caviar (Your favorite type) and serve immediately.
Poached Eggs with Parmesan and Smoked Salmon Toasts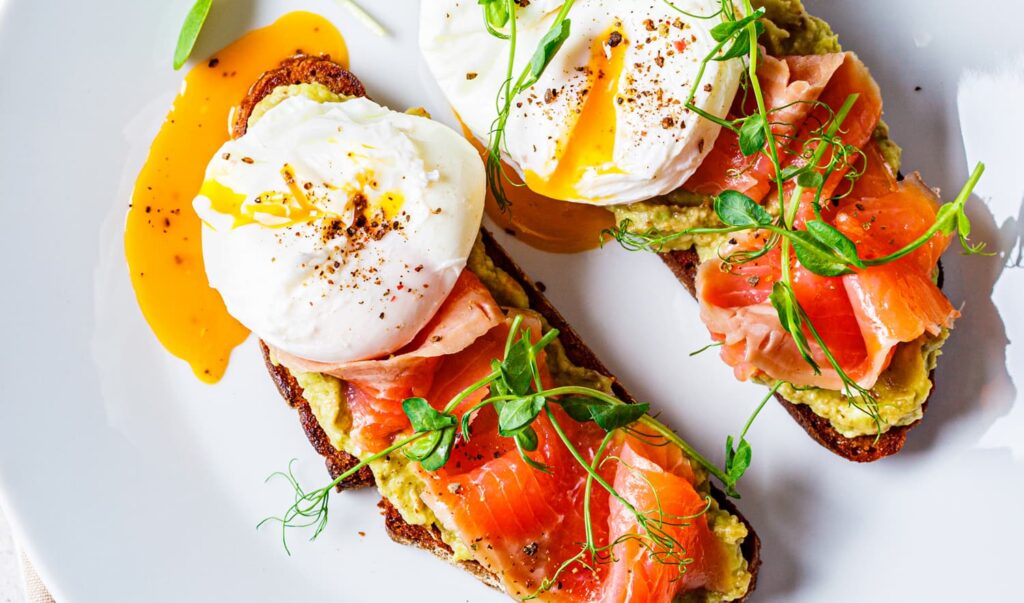 Ingredients
Four 1/2-inch-thick slices of sourdough bread
Extra-virgin olive oil
1/4 cup freshly grated Parmesan
2 ounces thinly sliced Smoked Salmon
4 large eggs
Preheat the oven to 425°. Fill a medium skillet with water and bring to a boil. Put the bread on a baking sheet and brush all over with olive oil. Bake for about 8 minutes, or until crisp. Reserve 8 toasts. Push the remaining 8 toasts on the baking sheet close together and sprinkle the Parmesan on top in a thick layer. Bake for about 2 minutes, or until the cheese is melted. Wrap the Smoked Salmon around the remaining 8 toasts. Reduce the heat under the skillet to moderately low so the water simmers. One at a time, break the eggs into a small bowl and pour them into the simmering water. Cook until the whites are just firm and the yolks are still runny, about 3 minutes. Using a slotted spoon, transfer the eggs to paper towels and gently blot dry. Put each egg in a small, warmed bowl. Serve immediately with the Parmesan and smoked salmon toasts.
Smoked Salmon Panini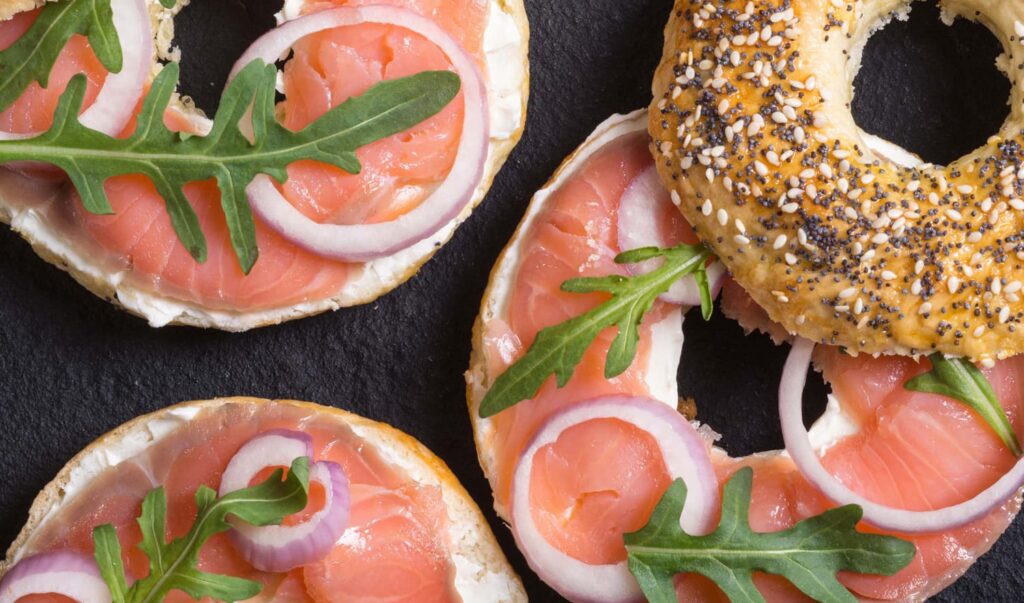 Ingredients
8 slices brioche
Dijon mustard
8 thin slices Gruyère cheese
1/2 pound thinly sliced Smoked Salmon
Finely grated zest of 1 lemon
Salt and freshly ground pepper
Heat a panini press. Spread 4 of the brioche slices with mustard and top each one with 1 slice of Gruyère; divide all of the Smoked Salmon and the lemon zest between the 4 slices. Season lightly with salt and pepper and cover with the remaining slices of Gruyère. Close the sandwiches and grill for 2 to 3 minutes, until toasted and the cheese is melted. Cut the sandwiches in half and serve.
So? Is Smoked Salmon added to your shopping list? We hope these recipe ideas have inspired you to try this food at home. And always keep in mind to get your fine food products at reputable stores like House of Caviar. Visit our website and discover all we have available for you! From Caviar and seafood to the perfect accompaniments. Come and visit us! We'll be glad to have you around.