Looking for the perfect meal for the Christmas Season? If you're tired of cooking the same food every single year or you're feeling curious about trying something new, Caviar is the answer. From the fanciest to the most affordable type, including Caviar as the main ingredient in your meals will make everyone go wow. This Christmas Season is the perfect timing for choosing a tasty and unique touch to your dinner table.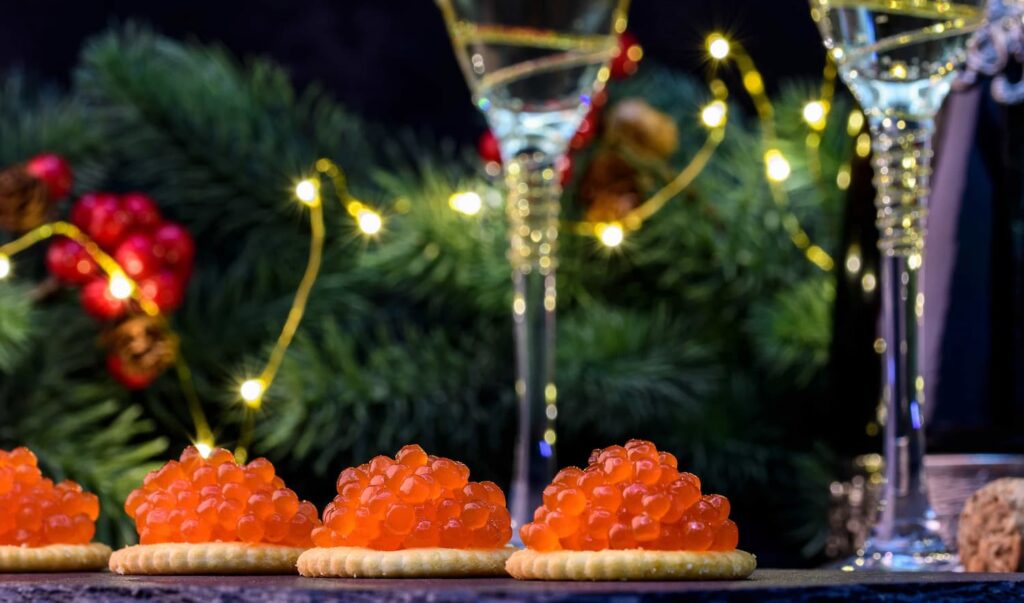 Now you've made up your mind and chose Caviar for this  Christmas Season, which type of Caviar should you use? Well, it depends on your recipe, flavor preference and budget. But don't worry! House of Caviar has a great variety to choose from. Though, before going into details let's remember there are two main categories of Caviar: imported and domestic. Imported Caviar is the one produced in the traditional regions of the Caspian Sea in Europe and Domestic Caviar refers to the Caviar harvested, produced and commercialized in the United States. Among these two categories there are many types to choose from, you can always check our online store and pick your favorite. 
There are up to 27 different species of fish you can get your hands on different types of Caviar. However, the quality and taste of each one are different from the other in a major or minor way. Some of the most common types of Caviar available in the market are: Beluga Caviar, Osetra Caviar and Kaluga Caviar. These are all from the Imported Caviar family but if you're considering American Caviar Paddlefish Caviar or Tobiko Black will always be top options.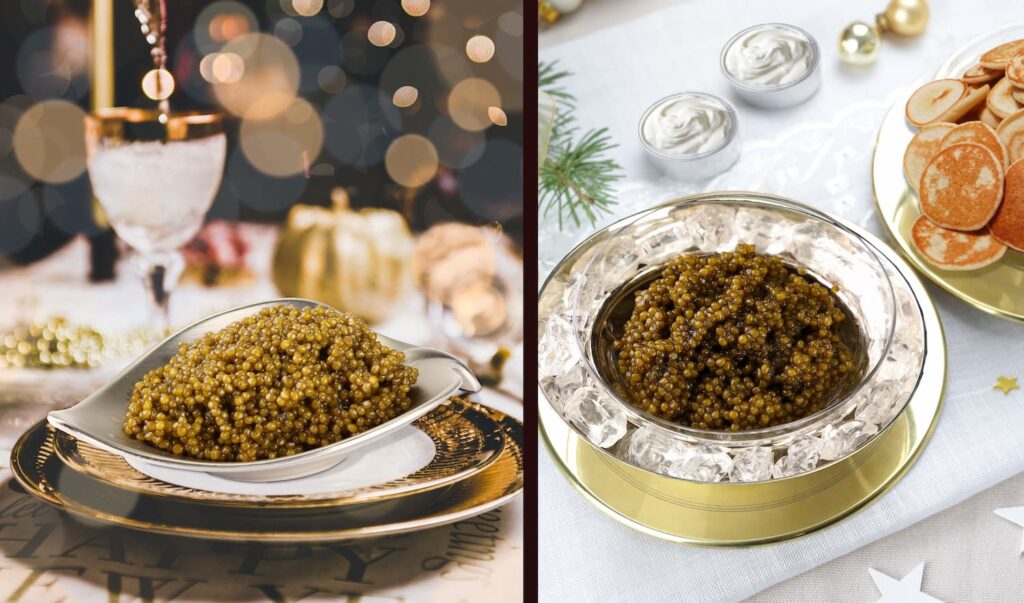 How to pair and serve Caviar for this Christmas Season? Caviar brings a sense of class and elegance to any social gathering, although Caviar is best served on its own there are many ways you can present it. Some of the best accompaniments are: unsalted crackers toast, blinis crème fraiche, lemon wedges, minced onions, potatoes, hard-cooked eggs, buttery toast points. And what about the drinks? Champagne and vodka are classic pairings for Caviar. But at the end it is about what you like the most , and there are plenty of other options that pair just as well. 
So, you've chosen the type of Caviar, the accompaniments and the drinks. Now it's time to cook! House of Caviar is sharing three recipe ideas for this Christmas Season from appetizers to fancy serving. Let 's begin!
Caviar and Crème Fraîche Tartlets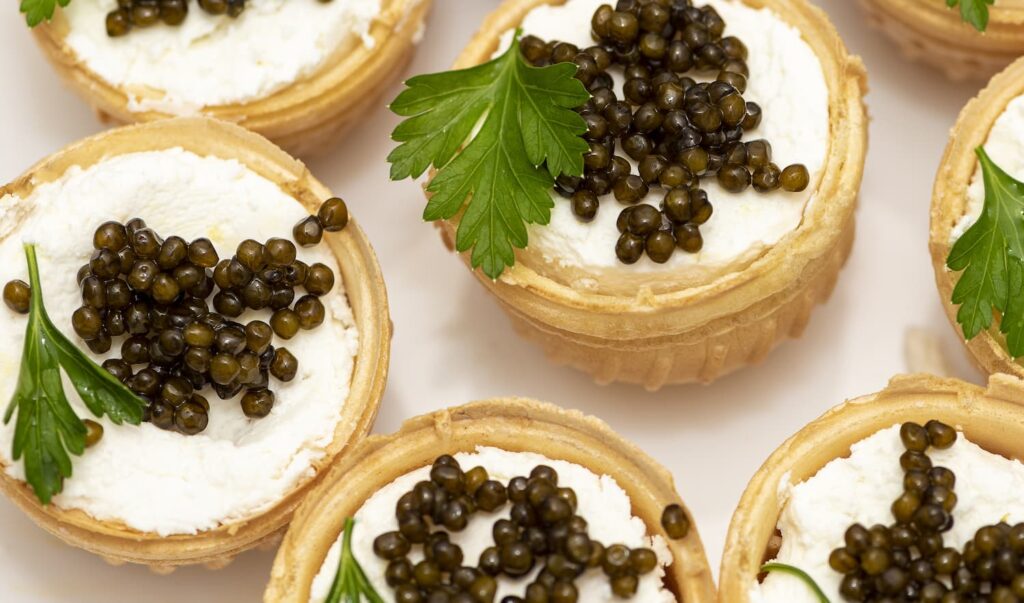 Ingredients
12 mini round tart shells
6 tablespoons crème fraîche
2 tablespoons Caviar ( Ossetra or Beluga)
2 tablespoons thinly sliced chives
First, arrange tart shells on a serving platter. Spoon crème fraîche into a small resealable plastic bag and snip a 1/4″ opening in the corner. Pipe about 1/2 tablespoon crème fraîche onto one side of tart shells and spoon 1/2 teaspoon of Caviar onto the other side. Garnish with chives, serve immediately and that's all!
Smoked Salmon Rolls With Vegan Cream Cheese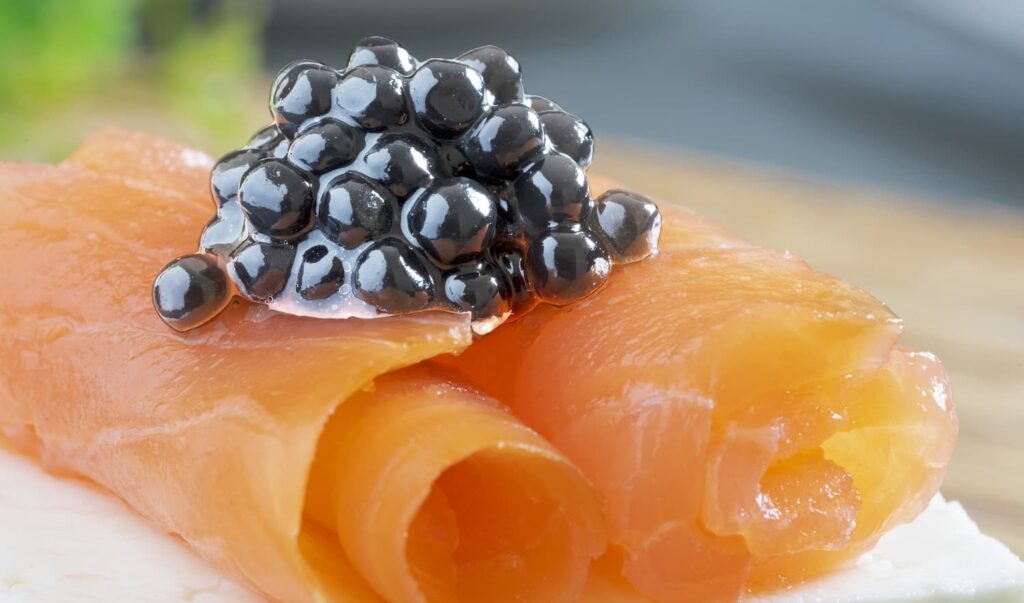 Ingredients
50 g Smoked salmon 
25 g Cream Cheese  
15 g Caviar
Dill (for decoration)
These Caviar party appetizers are by far the easiest you'll find! Lay out as many spoons as you would want for your guests. Cut out thin sections of smoked salmon that fit your spoons and fill them with cream cheese. Then, twist the salmon into rolls and place on your spoon. Top with Caviar and a pinch of dill and all done!
Four-Layered Caviar Dip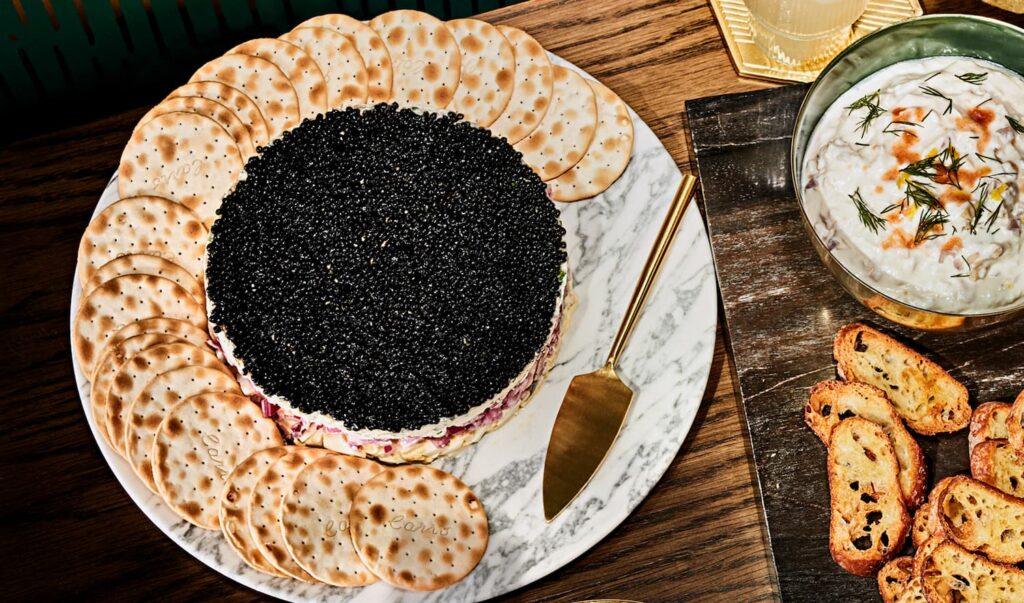 Ingredients
6 large hard-cooked eggs
2 tablespoons sour cream
2 tablespoons mayonnaise
1/2  teaspoon kosher salt
1 cup finely chopped red onion, rinsed and dried
8 ounces cream cheese, softened
1/3 cup thinly sliced fresh chives
2 ounces Paddlefish Caviar
Water crackers
Cooking spray
This is a perfect recipe to set your table with different accompaniments and Caviar! Stir together chopped eggs, sour cream, mayonnaise, and salt in a medium bowl. Lightly grease a 6-inch ring mold with cooking spray. Spoon egg mixture evenly on bottom of prepared ring mold. Top evenly with onion. Stir together cream cheese and chives in a bowl, and gently spread over the onion. Then, top with Paddlefish Caviar. Refrigerate for 2 hours, unmold onto a serving plate or platter, and serve with crackers.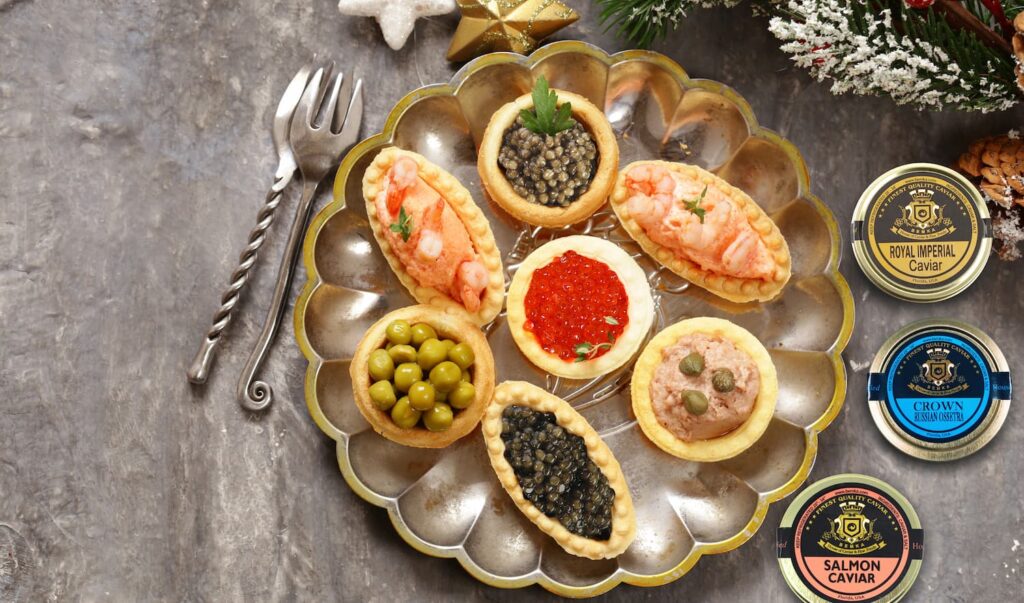 This Christmas Season you won't run out of ideas, pick your favorite one and surprise your loved ones with a different dinner party. Still want more ideas? You can always check websites like Food and Wine, NYT Cooking and Yummly for more inspiration. And where to get Caviar? Make sure to always get it from reputable stores like House of Caviar. Visit our online store and you'll find everything you need for your Christmas dinner. We're hoping to see you soon!