Want to know everything about Osetra Caviar? There's so much information about Caviar, it can be confusing at times. What is it? How does it taste? What 's the price? and how to serve it? Keep reading and find out.
Caviar is a whole universe of flavors and colors. The first thing you should know  about is Types of Caviar. There are three types of Caviar that stand out from the rest. One of them is the so-called Osetra Caviar. Osetra Caviar is the second caviar in order of exclusivity, just behind Beluga caviar and before Sevruga. Among the main differences is the size, Osetra Caviar is a little bit smaller than the rest. The size of the pearl is about 2 millimeters.
This type of Caviar is described as  soft and loose, light gray in color, with golden reflections and very aromatic. The consistency of the roe is firmer than that of other sturgeons. The taste it leaves in the mouth can remind you of the taste of walnut. This is the main reason why some prefer it, even over Beluga Caviar. Osetra Caviar, also called Oscietra or Asestra, comes from one of the sturgeon varieties native to the Caspian Sea. These fish have a medium dimension. They can reach two meters in length and weigh between 40 and 100 kilos, in some cases. It has a large snout and feeds on other fish, crustaceans, and algae.  In Russia, this is the most farmed variety. 
How much does it cost? Osetra Caviar pricing depends on the supplier. In out store Osetra Caviar price per ounce: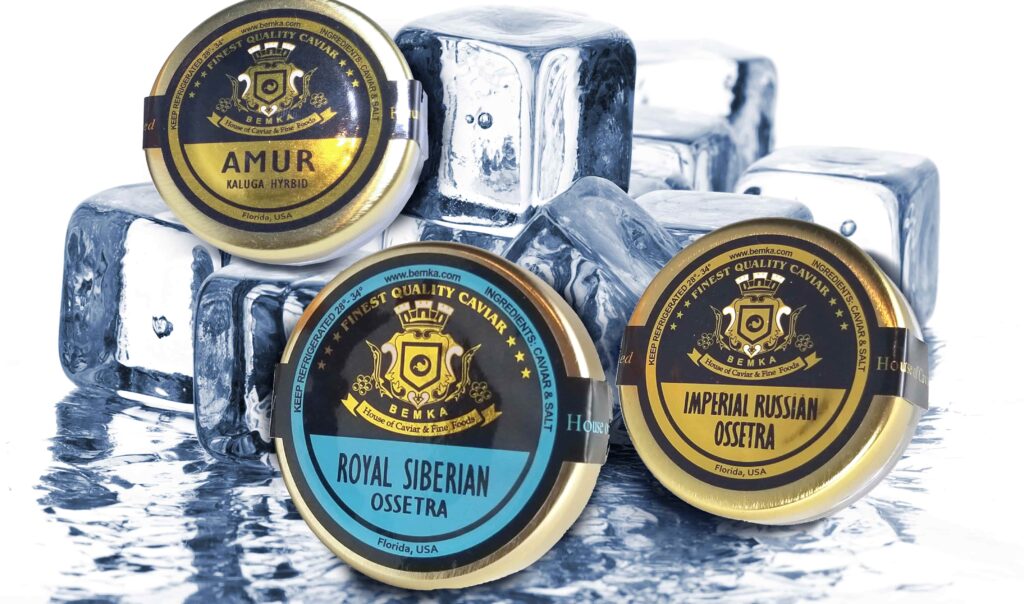 Now you know what Osetra Caviar is, how it tastes and how much it costs, let's find out how to serve it. Caviar can theoretically last in the fridge for up to a month, but that's only if it's stored at the proper temperature (28 to 34 degrees) But if your fridge doesn't get that cold the appropriate work around is to keep the caviar tin in a pouch surrounded by gel ice packs (These are typically supplied by the store at no extra cost). If you omit this step you will find your fish roe bleeding oil, so you should just consume the entire tin shortly after opening.
The best way to store Caviar is at a low temps. So if the restaurant serves the roe on ice, take a few minutes to appreciate how the oils become richer and more flavorful as they start to warm up.And If you're eating the roe at home, 10 minutes outside of the fridge should be about right before serving. So, the question is how to serve it? You already know how to keep Osetra Caviar and the other types of Caviar at home. We looked for the best recipes with Osetra Caviar and here are some recommendations you will surely love to try out! 
Caviar Waffle Bites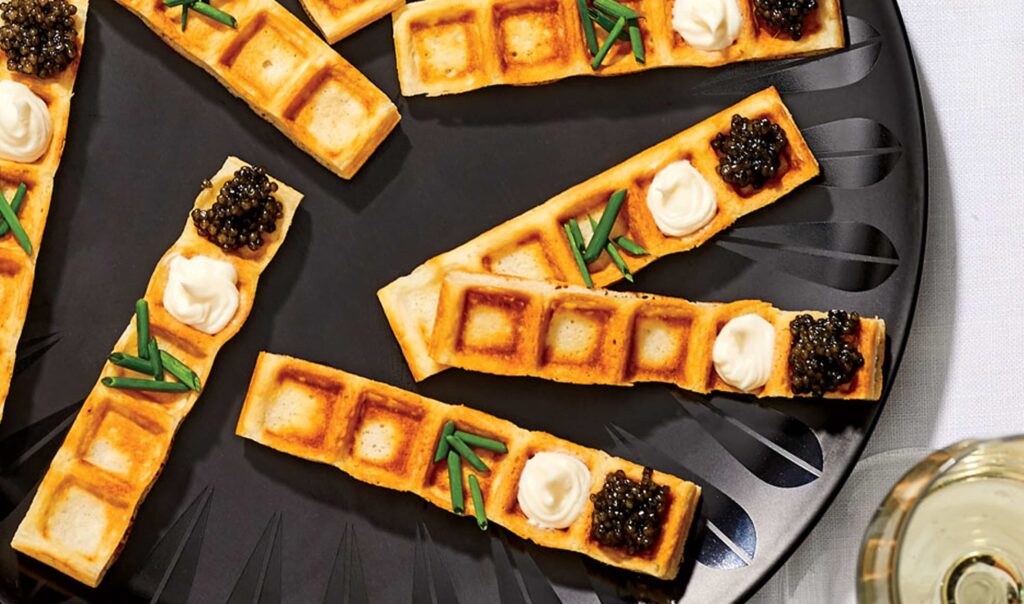 Ingredients:
1/2 cup all-purpose flour 
2 teaspoons granulated sugar
3/4 teaspoon kosher salt
1/2 teaspoon baking powder
1/2 cup buttermilk
1 large egg
2 tablespoons unsalted butter, melted, plus more for greasing
3 tablespoons crème fraîche
1 (1.1-ounce)  Osetra Caviar 
Chopped fresh chives, for garnish
Grease a round waffle iron with butter; preheat to high. Whisk together flour, sugar, salt, and baking powder in a bowl. Whisk together buttermilk, egg, and melted butter in a small bowl until well combined. Add buttermilk mixture to flour mixture; whisk just until incorporated. Pour half of the waffle batter (about 1/2 cup) onto preheated waffle iron; spread gently over the iron grid with a small spatula. Close iron, cook until browned and slightly crisp for about 3 minutes. Transfer to a wire rack; cool slightly, about 5 minutes.
Following the waffle grid marks as a guide, cut each waffle into 4 wedges, then cut 3 long rectangular pieces from each wedge to yield 12 pieces per waffle. Spoon crème fraîche into a small ziplock plastic bag; snip the tip off one corner of the bag to form a 1/4-inch opening. Spoon Osetra Caviar evenly into the outermost square of each rectangular waffle piece; pipe a small dollop of crème fraîche into squares directly next to the Osetra Caviar. Garnish with chives. Transfer to a platter and serve.  Chef Justin Caple is the creator of this recipe and many more using Caviar, visit Food & Wine and you'll find more of his wor
Omelet with Pressed Caviar and Sour Cream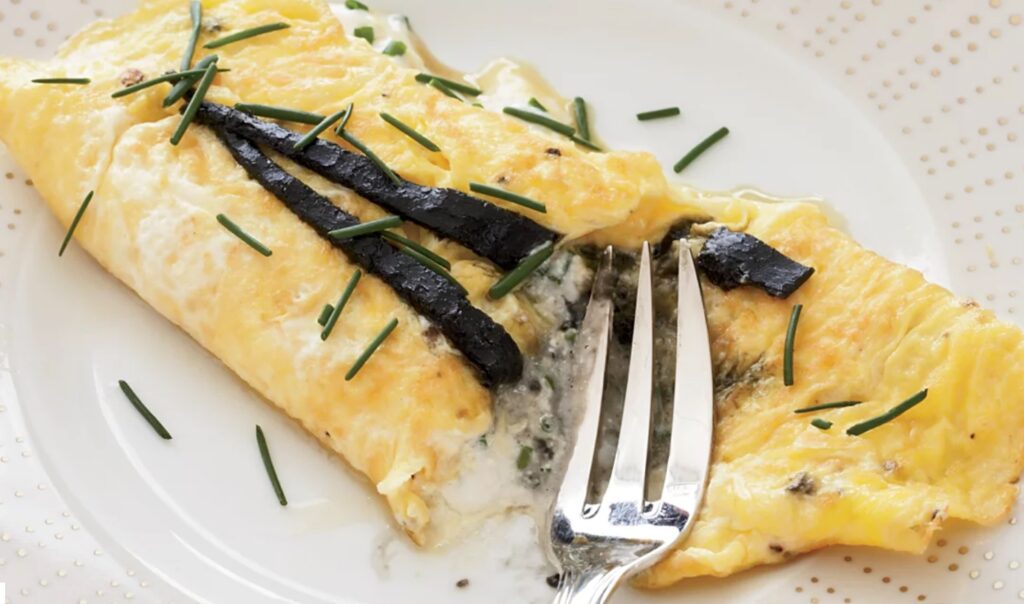 Ingredients
3 tablespoons Osetra Caviar (3 ounces)
2 tablespoons sour cream
1 tablespoon minced chives
2 large eggs
Salt and freshly ground pepper
1 tablespoon unsalted butter
In a small bowl, beat the eggs until frothy and season with salt and pepper. In a 6-inch nonstick skillet, melt the butter over high heat until the foam subsides. Add the eggs and stir constantly with a heatproof rubber spatula, while shaking the skillet, until the eggs are set but still moist. Off the heat, dollop the sour cream mixture across the center of the eggs. Shake the skillet to loosen the omelet, then fold one-third of the eggs over the filling. Tilt the skillet and turn the omelet onto a plate, folding it over itself as you tilt. Garnish with the strips of Osetra Caviar, sprinkle with the remaining chives and serve right away. This is a recipe by Chef Jacques Pépin, check more of his work at Food & Wine clicking here.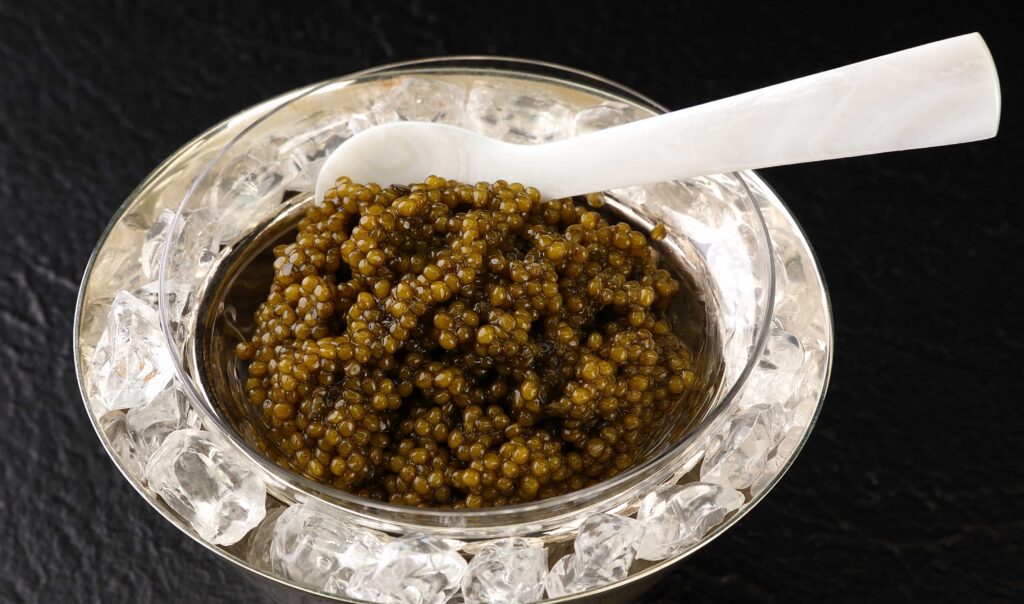 There are a million chances to enjoy Osetra Caviar and all the types of Caviar.  House of Caviar offers you the Best Caviar imported and domestic. If you're ready to try Caviar, we invite you to visit our store and pick your favorite.