If you're a Caviar connoisseur, you must know about this type of Caviar. When speaking of this delicacy it is often to go for the classics, for example, Ossetra. But if you're one of those who already have a long way in Caviar's world,  Sevruga Caviar is surely not a surprise. Sevruga Caviar is the smallest sized Caviar, its compact but loaded roe with the flavour that has made Sevruga Caviar famous throughout the world.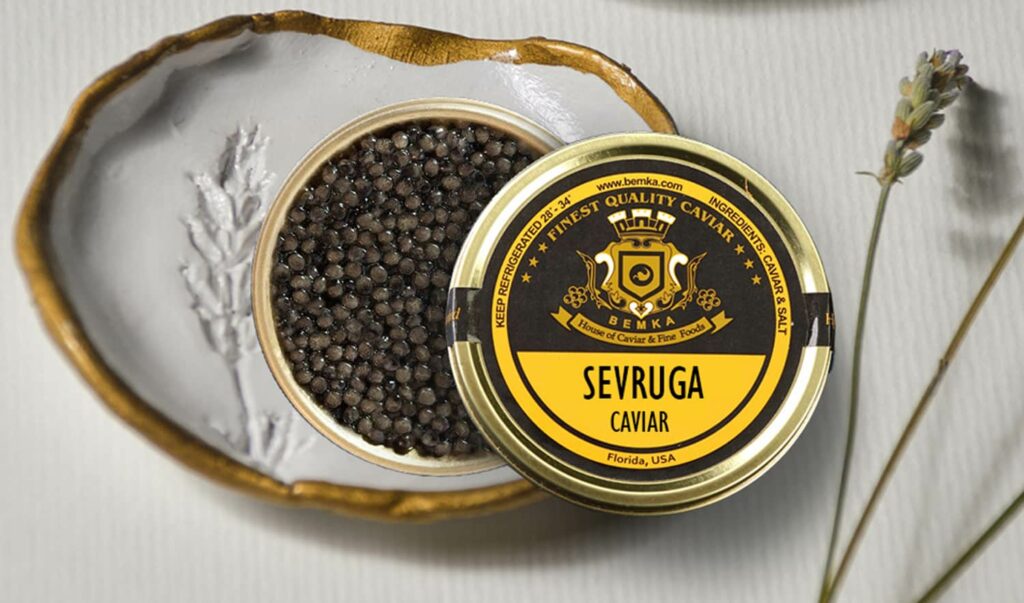 Only the best Sevruga is farmed in the waters of the Caspian and the Black Seas. Sevruga is part of the sturgeon family, being trim and small in comparison to the Osetra and the Beluga.Although its eggs are smaller, it's one of the highest priced varieties of Caviar, eclipsed only by more expensive relatives like Beluga and Ossetra. 
Because of the Stellate sturgeon is the most common and reproduces more quickly, this makes Sevruga Caviar the most commonly found of the sturgeon Caviar and the least expensive type of Caviar of the top imported varieties. Sevruga Caviar stands out  for its flavor and texture. In 2018, Sevruga Caviar accounted for approximately 25% of global revenue in 2018 (Grand View Research 2019). In recent years, this type of Caviar has become widely prevalent in the market and is readily consumed by beginner connoisseurs and enjoyed for its less fishy taste and darker color. Caviar is also becoming even more popular now that more people know it has numerous positive health benefits. It is rich in proteins, omega-3 fatty acids, and selenium. A spoonful of Caviar provides the adult daily requirement of vitamin B12. High-quality Caviar is known for its firm texture, as well as its flavor qualities, which include a creamy and buttery taste, along with a mild fish finish.
So far we know the features of Sevruga and why it's a type of Caviar you should consider. But,  where to buy it? Easy! Visit House of Caviar online store and find a great selection of high quality Caviar – Imported or domestic- just one click away from your home.  Buy  Sevruga Caviar in our Imported Caviar section. You'll love it! 
Once you get Sevruga Caviar, how do you serve it? Here's a couple of recipe ideas you can try at home and why not, surprise your friends with a home dinner made for you! These are House of Caviar recommendations: 
Clams with Lemon Cream and Sevruga Caviar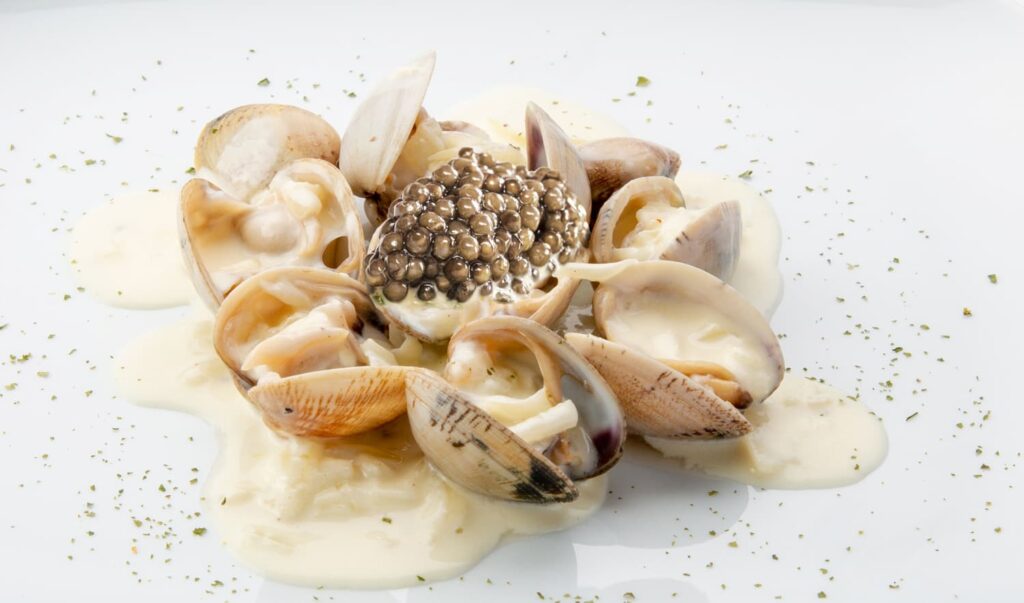 Ingredients
2 dozen mahogany or littleneck clams
1 cup dry white wine
2 tablespoons minced shallots
1 fresh thyme spring
3 tablespoons heavy cream
1 1/2 teaspoons fresh lemon juice
1 teaspoon minced fresh chives
1 1/2 to 2 ounces Sevruga Caviar
Freshly ground pepper
Salt
In a large nonreactive saucepan, combine the clams with the wine, shallots, thyme sprig and a pinch of pepper. Cover and cook over high heat until the clams just open, about 8 minutes. Transfer the clams to a bowl with a slotted spoon; strain and reserve 1 1/2 teaspoons of the cooking liquid. Remove the empty half-shell from each clam and reserve.In a small bowl, combine the heavy cream, lemon juice, chives and the reserved cooking liquid. Gently fold in the Caviar. Season the cream with salt and pepper. Just before serving, spoon the Caviar cream over each clam and garnish with the chervil and lemon wedges.
Cauliflower Soup & Seared Scallops with Sevruga Caviar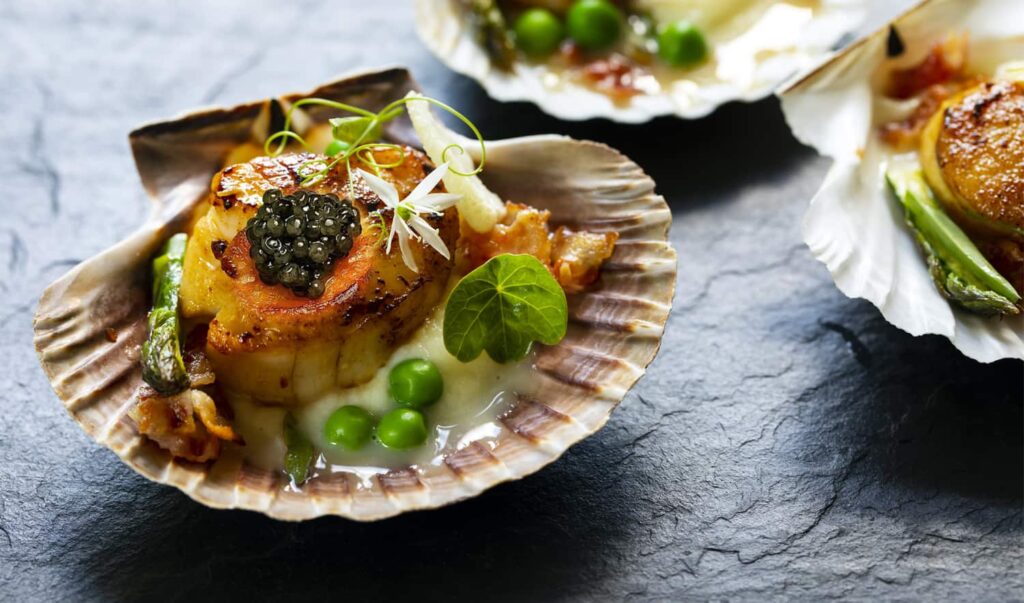 Ingredients
100 grams of Sevruga Caviar
3 tablespoons vegetable oil
1 cup chopped white onion
1 garlic clove
 3 3/4 cups cauliflower
1 1/2 cups low-salt chicken broth
1 1/2 cups whipping cream
1 leek (white and pale green parts only)
6 sea scallops
6 teaspoons purchased lemon-infused grapeseed oil
Coarse Kosher Salt
Freshly ground white pepper
Finely chopped fresh chives
Heat 2 tablespoons of oil in a heavy large saucepan over medium heat, add onion and garlic. Sauté until onion is soft, about 5 minutes. Add cauliflower, broth, and cream. Bring soup to boil. Reduce heat to low, partially cover, and simmer gently until cauliflower is tender, about 18 minutes. Puree soup in small batches in a blender until smooth. Return to the same saucepan. Season the soup with kosher salt and white pepper. Do ahead can be made 1 day ahead, cool slightly. Cover and chill. Re-warm before serving. Blanch leek in a small saucepan of boiling salted water 1 minute; drain. Place some leek in the center of each bowl. Heat remaining 1 tablespoon oil in a medium skillet over high heat, then sprinkle scallops with salt and pepper. Sear until brown and just opaque in center, about 1 1/2 minutes per side. Place 1 scallop on leek in each bowl. Finally garnish scallop with Sevruga Caviar. Ladle soup around scallop, drizzle with 1 teaspoon lemon oil, and sprinkle with chives.
Feeling inspired? Check Foodnetwork, Food&Wine and Cooking by NYT for more cooking ideas.   If you're ready to try Caviar, we invite you to visit our store and pick your favorite. House of Caviar offers you the Best Caviar imported and domestic. Give a try to Sevruga Caviar and many more! We're waiting for your visit.