Choosing Caviar can be a tricky decision once you know there are many types to choose from. Ossetra Caviar  is at least the second most well-known caviar in the world. It comes from the Russian Sturgeon and It ranks highly as some of the best caviar of all time in terms of aesthetics, with amber to gold tinted eggs, and flavor, with its uniquely rich and nutty taste. But did you know Ossetra Caviar has its own types? It's time to introduce you to the Classic Siberian Ossetra Caviar. 
Classic Siberian Ossetra Caviar is one of the three most exclusive types of caviars, with features that are eclipsed only by Beluga and Russian Osetra Caviar. Despite its exceptional quality, Classic Siberian Osetra Caviar is quite affordable, making it the perfect choice for beginners wanting to include Caviar into their lifestyle.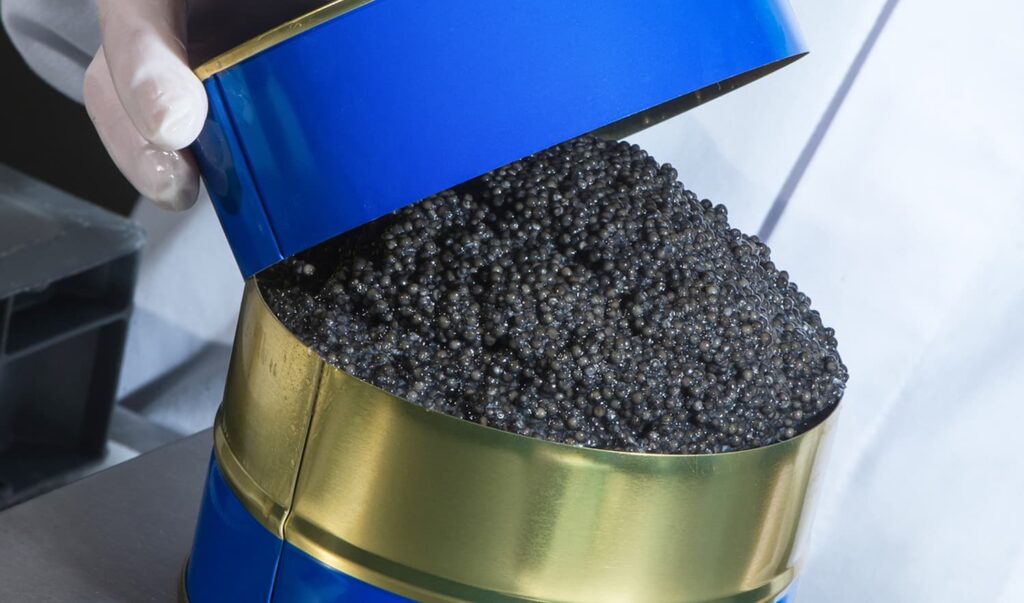 But, what does Classic Siberian Ossetra Caviar have that makes it so special? There are many reasons that stand out. The taste, texture, and appearance of this type of Caviar from the Siberian sturgeon is similar to the finest Sevruga Caviar.  Classic Siberian Ossetra Caviar has firm, medium sized globes that range from medium to dark gray or brown in color. Its pearls have a pleasingly sweet, nutty flavor, with a delicate pop and velvety creamy texture. 
If you want to recognize Classic Siberian Ossetra Caviar keep in mind the finest Classic Siberian Ossetra Caviar is prepared using the Malossol method, which calls for a minimal salt content of just 3 to 3.5% and no preservatives. This ensures the Caviar has a refreshingly clean taste with a mildly salty finish.
Now you may be wondering why is such a great quality Caviar still so affordable? Classic Siberian Ossetra Caviar is slightly smaller than Osetra, the Siberian sturgeon is  faster maturing and requires less space than other mid-size sturgeon, making them an ideal Caviar species for farm-raising. 
At this point you've already learned what Classic Siberian Ossetra Caviar is, its taste, texture and some facts on why it is so special. Now it's time for a couple of easy and yummy recipe ideas to try at home. Are you ready? Let's cook! 
Caviar Tacos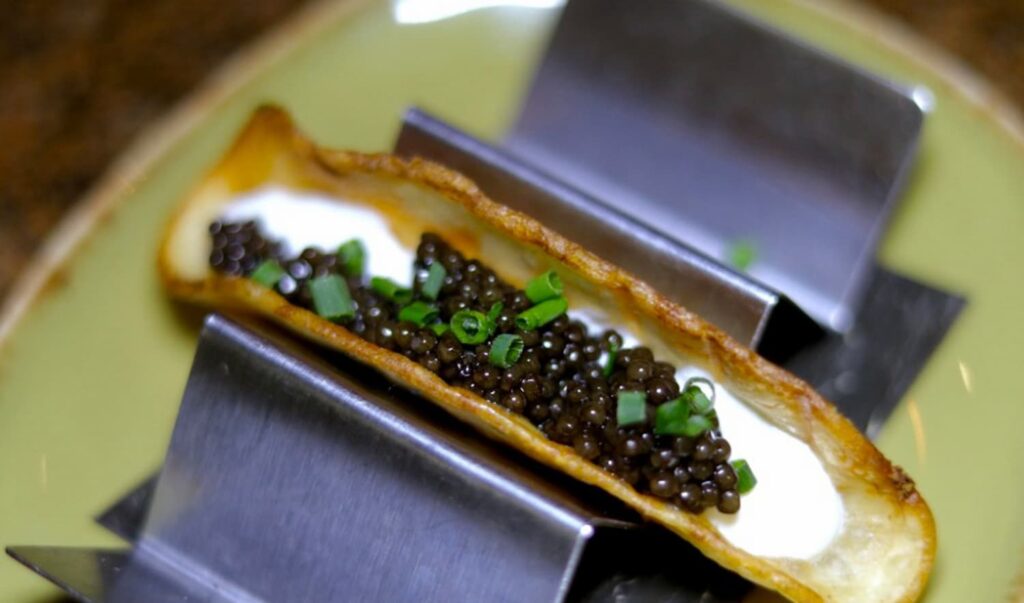 Ingredients
-2 oz. Classic Siberian Ossetra Caviar 
-2 large peeled Yukon gold potatoes
-1/4 cup sliced scallions
-1 cup crème fraîche
Place the potato lengthwise on a flat surface and at a 45 degree angle, make 3 thin slices. Place into a taco stand and cook at 300 degrees in clean oil for 2 minutes. Then remove and turn up the oil to 375 degrees and then re-fry the potato tacos until crisp. Place on a paper towel to drain any excess oil. Place the crème fraiche in a bowl and whisk until it doubles in volume and becomes stiff. Fold scallions into the crème fraiche. Season with salt/pepper as needed. Take the taco shell-style potato boat in one hand, hold gently and apply the crème fraiche mixture to the bottom of the shell, ¾ of the way up. Add 1 teaspoon of Classic Siberian Ossetra Caviar to the center top of the shell and spread out along the length of the shell. Serve immediately. Enjoy!
Siberian Caviar Potato Wedges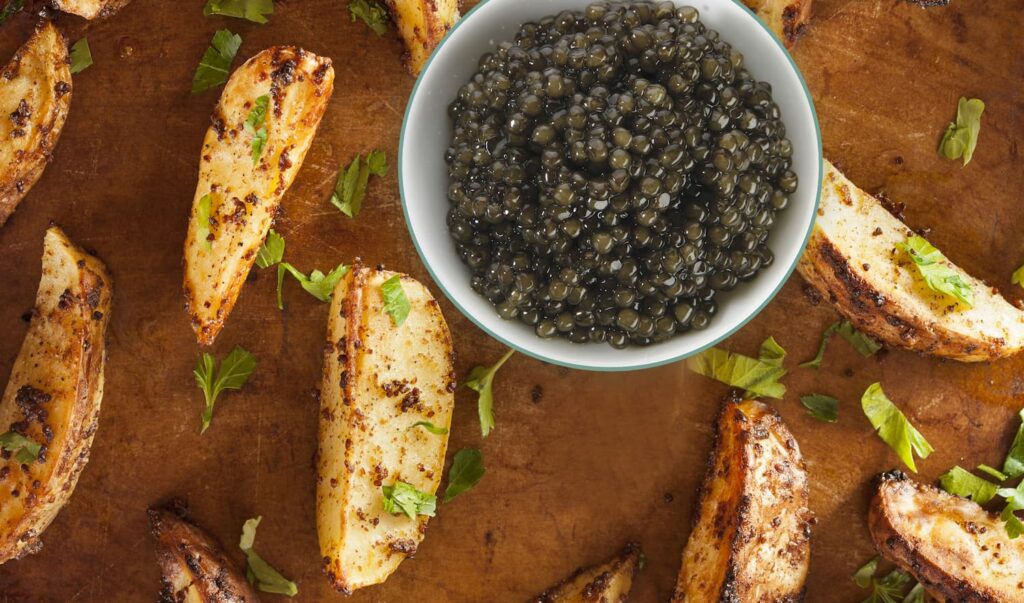 Ingredients
-2 oz. Classic Siberian Ossetra Caviar 
-3 small baking potatoes 
(cut crosswise into 1/4-to 1/3-inch-thick slices)
-Salt and pepper
-1/2 cup sour cream
Garnish: Chopped white onion or fresh chives
Preheat the oven to 400°F. Brush both sides of potato slices with olive oil. Place on a baking sheet and season lightly with salt and pepper. Bake until golden brown on bottom sides, about 15 minutes. Turn slices over and continue baking until the second sides are golden brown, about 15 minutes. Transfer to plate. Top slices with small dollops of sour cream. Spoon a small amount of Classic Siberian Ossetra Caviar on top of the sour cream. Sprinkle with chopped white onion or fresh chives as garnish. Serve immediately and voilá!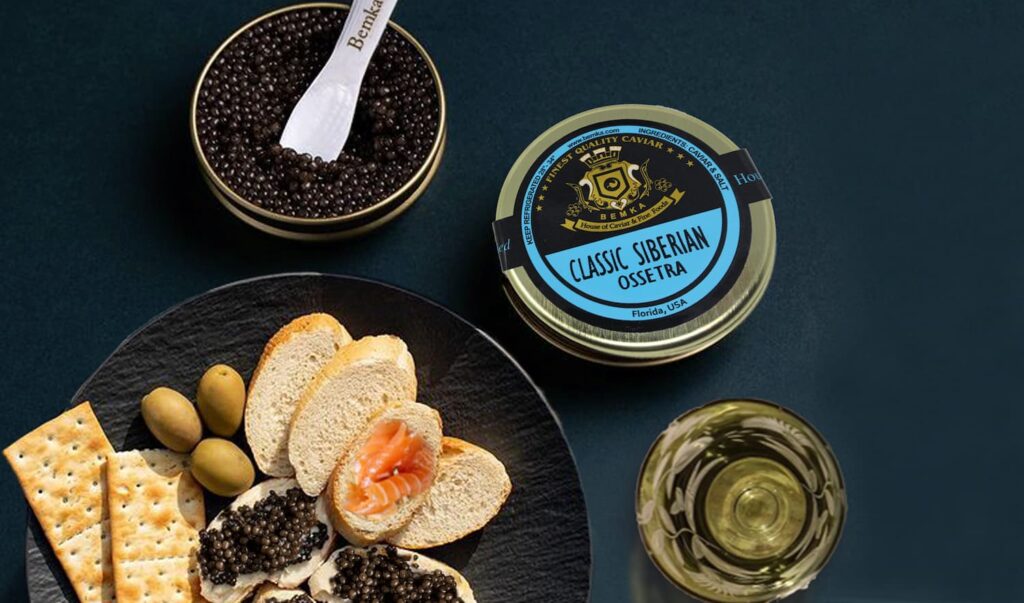 Which one would you like to try first? Whichever you choose, make sure to buy Caviar in a reputable store like House of Caviar. Visit our Imported Caviar  and get the best  Classic Siberian Ossetra Caviar  with just one click. And if you're looking for more, remember House of Caviar is the perfect place to buy Caviar and fine foods, visit our online store and find seafood, meats, truffles, specialties and much more! Come as many times as you want to, we'll be happy to have you!