We explore flavors in the kitchen, create new dishes, and invite people to try our food. Is this one of the activities we like to do the most to get out of our comfort zone? Of course, for some reason, you are reading this article.
We all want to find those ideal recipes to surprise our friends and loved ones. Well, we'll start by telling you four recipes with fine ingredients such as smoked salmon, salmon caviar, Merguez Lamb Sausage, duck legs, and beluga caviar. 
Without further ado, let's start with recipe number 1: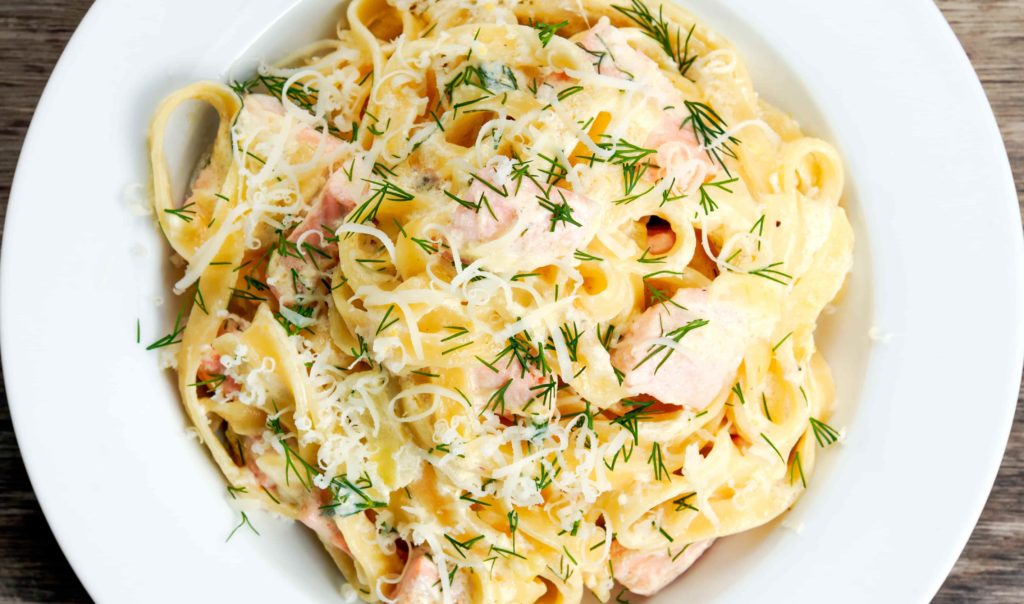 1.Smoked Salmon Pasta
Smoked salmon pasta sounds elegant, but the truth is that it is straightforward and fast to prepare. It takes less than 30 minutes to make, making it a perfect one night stand and good enough to impress your guests.
Recipe for four people:
INGREDIENTS
1 lb. spaghetti
1/2 red onion, chopped
2 cloves garlic, minced
1/4 c. white wine
3/4 c.  creme fraiche 
Juice of 1/2 lemon
Kosher salt
Freshly ground black pepper
1/2 lb. smoked salmon, cut into bite size pieces
1/4 c. capers, drained
2 tbsp. freshly chopped dill, plus more for garnish
PREPARATION: 
Boil salted water in a large pot; once boiling, cook pasta according to package directions until al dente. 

Drain, reserving ½ cup of water for the pasta, and return to the pot. In a large skillet over medium heat, heat the oil. Add onion and cook until soft, 5 minutes, then add garlic and cook until fragrant, one more minute. 

Add wine and cook until almost entirely reduced for 5 minutes. Add

creme fraiche

and lemon juice and cook until thickened, another 5 minutes. 

Season with salt and pepper. Add

salmon

, capers, and dill and cook until salmon is hot for 2 minutes, then toss in sauce and pasta. Add ¼ cup pasta water if the sauce is too thick. Garnish with more dill to serve. 
If you want to give this recipe a more glamorous and refined touch, try sautéing your pasta with salmon caviar. It will provide a unique touch to this delicious meal.
Recipe number two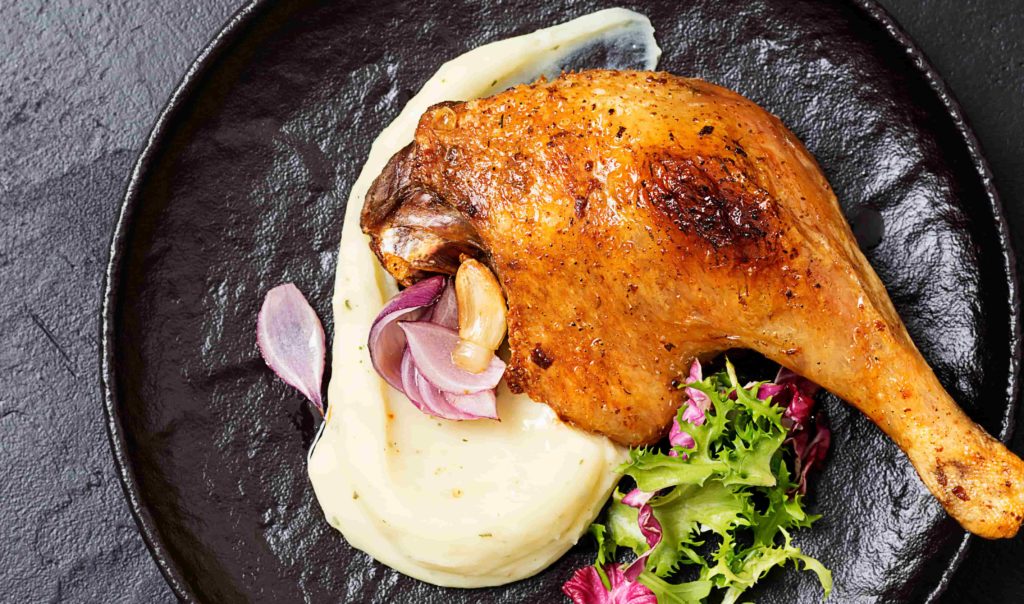 2.Duck Leg and Asian Slaw
A perfect recipe to enjoy in an evening, picnic, or from your beautiful balcony, remember to pierce the skin of the duck feet so that they are very crispy.
Read the full recipe and ingredients here:
INGREDIENTS
2 Gressingham duck legs
1 teaspoon 5 spice
Salt and pepper
ASIAN SLAW
1 carrot grated
1/2 small red cabbage grated
1 mini red pepper, 1 mini yellow pepper finely sliced or 1 large pepper of either colour
1/2 small onion finely sliced
1 clove garlic finely chopped
2 cm root ginger finely chopped
1 teaspoon sesame oil
1 dessert spoon fish sauce
Juice and zest of 1 lime
Few mixed leaves
Salt and pepper
PREPARATION
1.Pre heat oven to 180oC,160oC Fan, Gas Mark 4.
2.Prick the skin of the duck legs with a fork or cocktail stick and season well with the 5 spices, and salt and pepper.
3.Place on a baking tray skin side up and place in the oven. Cook for 1 – 1 hour 15 mins until tender.
4.While the duck is cooking, prepare all the vegetables for the slaw by placing the carrot, red cabbage, pepper, onion and garlic in a large mixing bowl.
5.When the duck is ready, remove from the oven and cover.
6.Add the ginger, sesame oil, fish sauce, lime and mixed leaves to the bowl with the vegetables. Season the vegetables with salt and pepper and then toss everything together.
7.Divide the Asian slaw between 2 plates, place the duck leg on top, serve!
Next recipe here: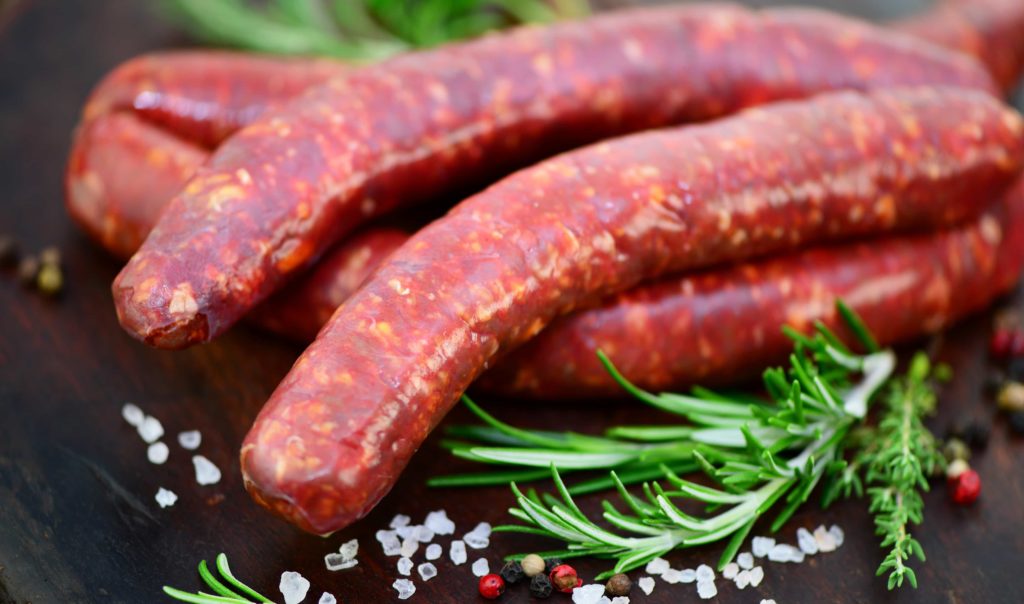 3.Estouffat With Merguez Lamb Sausages
Now we will tell you a fabulous recipe with Merguez Lamb Sausages, have you tried them? If you have not done it, it is an excellent opportunity for you to do it, and why not? So that you surprise your guests with a variety of flavors on the palate. 
We tell you the ingredients you need and the entire recipe so that you can start preparing it: let's get to work!
INGREDIENTS
½ pound dried navy beans or Great Northern beans
¼ pound salt pork or smoked bacon, diced, or 1/4 cup duck fat
1 ½ pounds Merguez lamb sausages
2 medium onions, chopped
1 large carrot, chopped
2 cloves garlic, crushed
1 ½ cups crushed tomatoes
1 bouquet garni
 Salt and freshly ground black pepper to taste
PREPARATION
1.Place beans in a bowl, cover with water to a depth of 2 inches and allow to soak at least 4 hours or overnight. Drain and rinse beans.
2.Preheat oven to 300 degrees.
3.In a heavy casserole slowly saute the salt pork or bacon until it is golden. Or heat the duck fat. Add Merguez Lamb Sausages and saute until lightly browned. Remove Merguez lamb sausages from the pan. Add onions and carrot to the pan and saute until onions are golden. Stir in the garlic.
4.Add tomatoes, return beans to casserole and add bouquet garni. Add two cups of water and several generous grindings of black pepper. Add two cups of boiling water. Slice Merguez lamb sausages into chunks 1 inch thick and add it.
5.Cover casserole and place in the oven. Bake for 2 hours. Remove bouquet garni, season to taste with salt and pepper and serve.
Now, if what you want is an unusual recipe satisfactory to the palate of your guests, here is our last recipe of the day: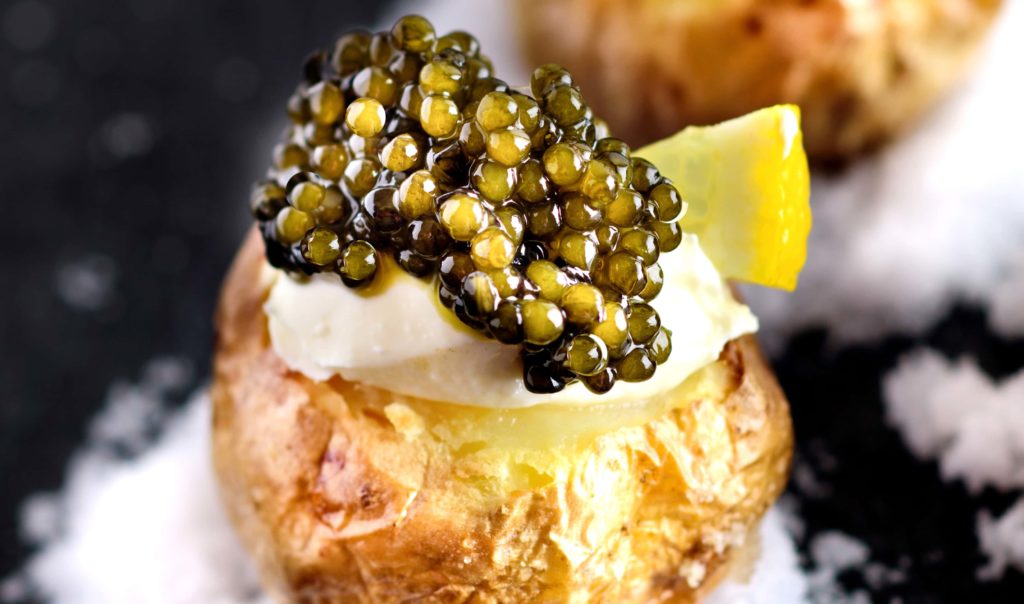 4.Beluga Caviar with Potatoes 
Caviar will always be an excellent option for special occasions. Above all, it will show a delicate and exquisite dish at your table. Today we tell you a special recipe with beluga caviar and potatoes, look at the ingredients and steps and dare to innovate in the kitchen.
INGREDIENTS
– 1.5 ounces beluga caviar
– 12 small red potatoes
– 1/4 cup milk
– 1/2 tablespoon butter
– 2 tablespoons crème fraiche
– 1/2 tablespoon chives (and more for garnish)
– 1 tablespoon butter, melted
– Salt and ground pepper
PREPARATION
Place the potatoes in a pot and cover with water. Boil until tender.

Cut tops off potatoes when cool. Scoop out flesh and set aside. The potato shell should be ¼ inch thick.

Slice off the bottom of each potato to make it stand upright. Place potatoes on a baking sheet and preheat the oven to 375 degrees.

In a small saucepan, heat the milk and add butter so it melts.

Take the potato flesh and push it through a ricer or sieve. Add milk and stir until creamy. Add

crème fraiche

, salt and pepper, and 1/2 tablespoon of chives.

Fill the mixture into the scooped out potato shells.

Bake for 15 minutes and brush with melted butter. Continue baking for another 15 minutes.

Remove from the oven and top with about 1/4 teaspoon of

BELUGA caviar

each and chives to garnish.
We hope you have enjoyed these recipes very much and that you impress your guests with these four fabulous recipes that we recommend.
At House of Caviar, we always want to give you the best. We offer quality products, but we also provide you with knowledge like the one in this blog post to learn about the world of cooking and encourage you to prepare your dishes. For that, we are also your best ally.