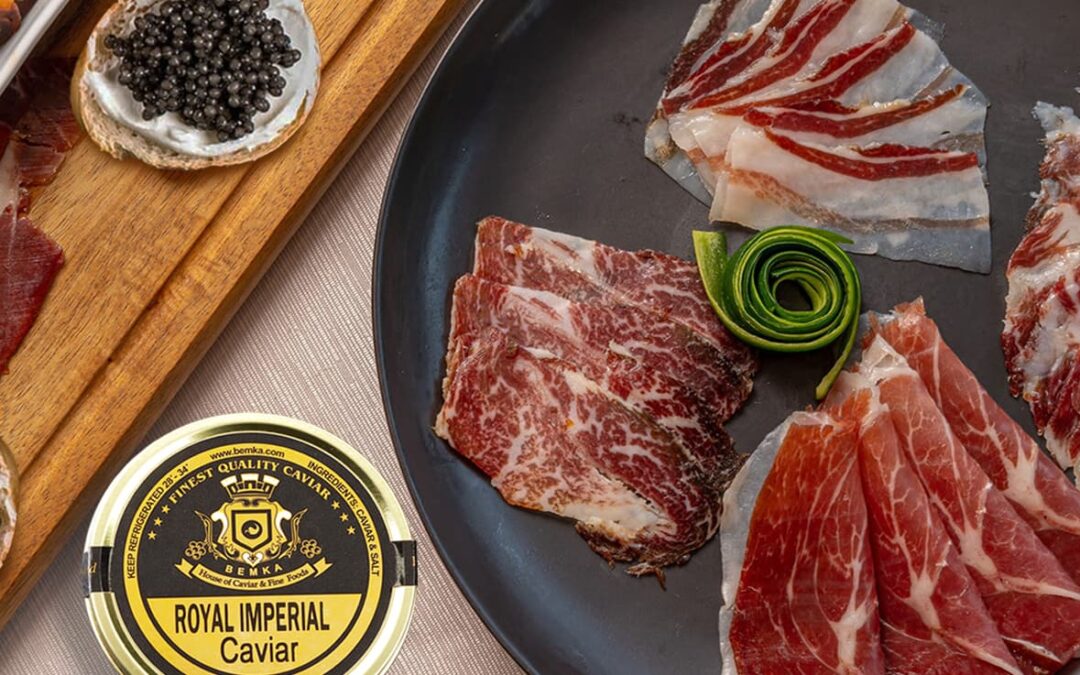 A true Caviar Lover enjoys Caviar served in every single way. Salty, briny, or on top of blinis and toasts, Caviar is something fine food fans love to eat plain, or minimally dressed. For those who love to serve it along with accompaniments, why not try Caviar with Meat? But wait, not just a regular type of meat, we're talking about Spanish Meats.  
Spanish Meats and Caviar is a duo worth trying. If you haven't ever thought about serving these two on the same plate, today is your lucky day! But first, let's have a quick intro about the most popular types of Spanish Meats and which ones you'll be able to find at houseofcaviarandfinefoods.com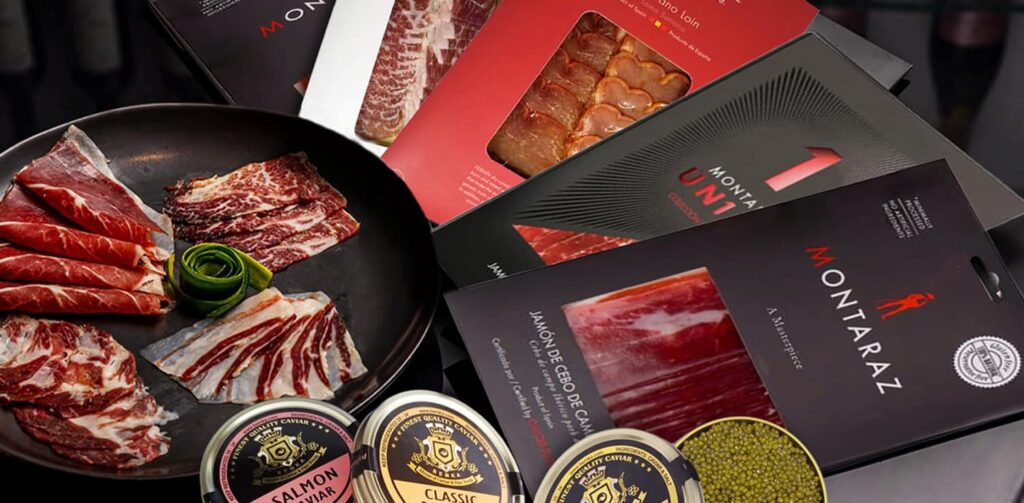 Spanish gastronomy is one of the finest and most popular in the world. Its cured meats, "embutidos" and charcuterie are a must try when visiting the country or even when in the mood of eating something new and tasty. So far you must be thinking what should I try first? Spanish Meats is a whole universe of flavors, however there are some types that stand out from the rest, for example: Ham. 
There are so many types of ham you may lose count of them. Today we introduce you to the top three types you'd like to know about: Iberico Ham, Bellota Ham "Pata Negra" and Serrano Ham. The first, Iberico Ham, is the king of cured Spanish Meats. It can only come from native Iberian pigs and is famous for being exclusive and expensive, but also known for its flavor and health benefits.The most basic-quality white label Iberico Ham comes from mixed-breed pigs who are reared in an enclosed area, fed fed on acorns during the final months of its life, giving it a distinctively nutty taste.
The second type is Bellota Ham or "Pata Negra". This is one of the best known hams in the world thanks to its excellent quality. It's an exquisite product made from the hind limbs of the Iberian pig reared in the montanera with acorns and wild herbs. It's different from the rest of the Spanish Meats due to its unique texture, slightly salty flavor and  intense aroma, which makes it one of the best in the category of Spanish Iberian hams. However, the flavor varies according to what pig has eaten and the exercise it has done in its montanera period. Also, as a fun fact, over the time "Pata Negra " has been a term that assigns quality for many products. Nowadays, saying that a product is "Pata Negra" is to say that it is the highest quality.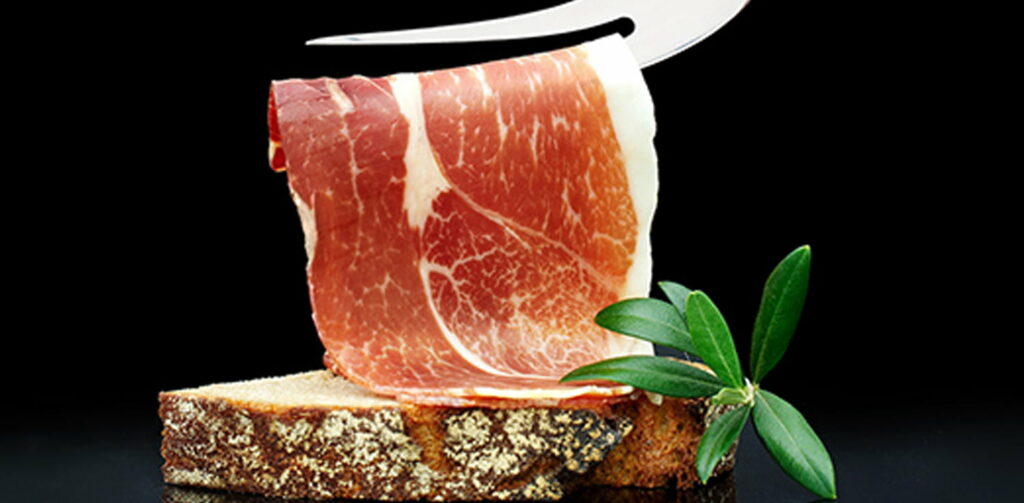 And last but not least: Serrano Ham. As it's called in Spanish, Jamón serrano is the most common type of Spanish Meat. In fact, it makes up 93% of all ham production in Spain. Serrano ham comes from pigs with the name of "white pigs", fed mainly with cereals and cured from 7 to 16 months.  With no cooking required, these hams are carved into paper thin slices and served with a glass of Spanish wine, or added to a myriad of recipes like croquetas de jamón or added to sautéed vegetables or stews. Compared to other types of hams processed in other countries, Serrano Ham is firmer with a consistent texture, some marbling, a warm red color and a deep ham flavor.
Do you see why Spanish Meats are worth trying? Ham is the heart of Spanish cuisine and the good news is that you get it in  House of Caviar. Visit our online store, go to the Meats tags and click on Spanish Meats. Soon you'll find a great variety of hams to choose from. Pick your favorite and you'll be ready to enjoy new delicious and tasty flavors. But there's something missing: Caviar! 
If you're wondering how to serve Spanish Meats and Caviar, here's a pair of recipe ideas to take notes for the next time you're serving these two exclusive ingredients together. 
Iberico Ham with Caviar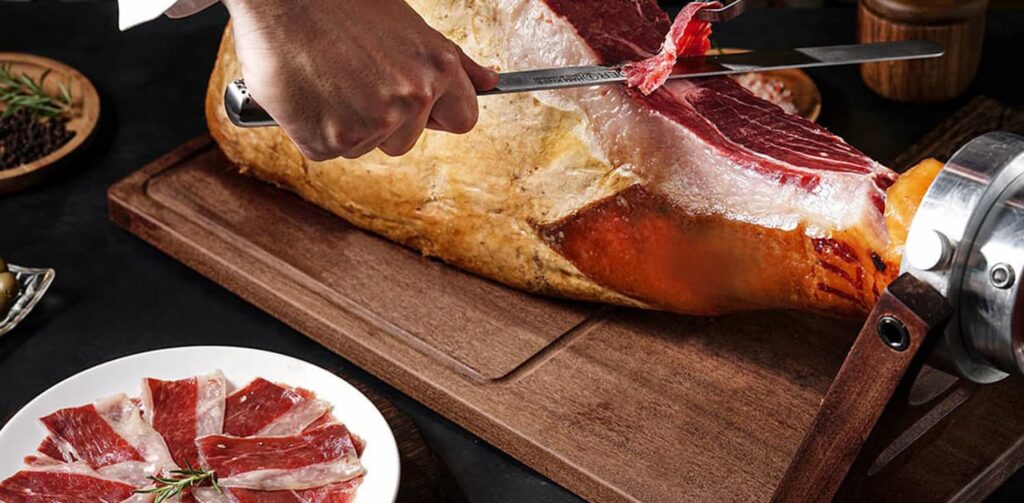 For this recipe you'll only need shards of Iberico Ham and your favorite type of Caviar. This is a perfect appetizer or entry, ideal for those who prefer the original taste of food with no garnish. Try and you'll see how the fatty and nutty round flavor of Iberico ham is accented by the sharp, focused, lingering saltiness of the roe.
Fried Eggs with Jamón and Caviar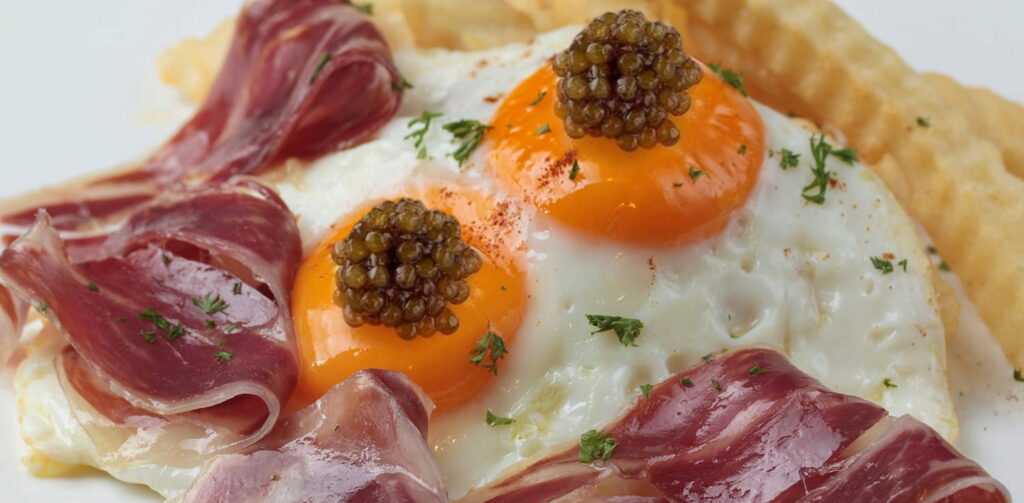 Ingredients
Extra-virgin olive oil, for frying
4 large Yukon Gold potatoes
Kosher salt
8 large eggs
Preheat the oven to 275°. Set a rack in a large baking sheet. In a large cast-iron skillet, heat 3/4 inch of olive oil to 300°. Working in 2 batches, fry the potatoes until golden brown and lightly crisp on the outside for about 7 minutes. Transfer the potatoes to the rack to drain and immediately season with kosher salt. Keep warm in the oven.
Carefully transfer 1 cup of the hot olive oil from the cast-iron skillet to a large nonstick skillet. Crack 4 of the eggs into the skillet and gently fry over moderately low heat until the whites are set and the yolks are slightly runny, about 5 minutes. Transfer to a plate. Repeat with the remaining 4 eggs.Divide the fries among 4 plates. Top each plate with 2 fried eggs, 2 slices of ham and a spoonful of Caviar, if desired, and serve immediately.
So, is it Iberico, Serrano or "Pata Negra"? You can find them all in House of Caviar. We are your go to online store for fine foods and Caviar. Visit us anytime and we'll be more than glad to have you. See ya!